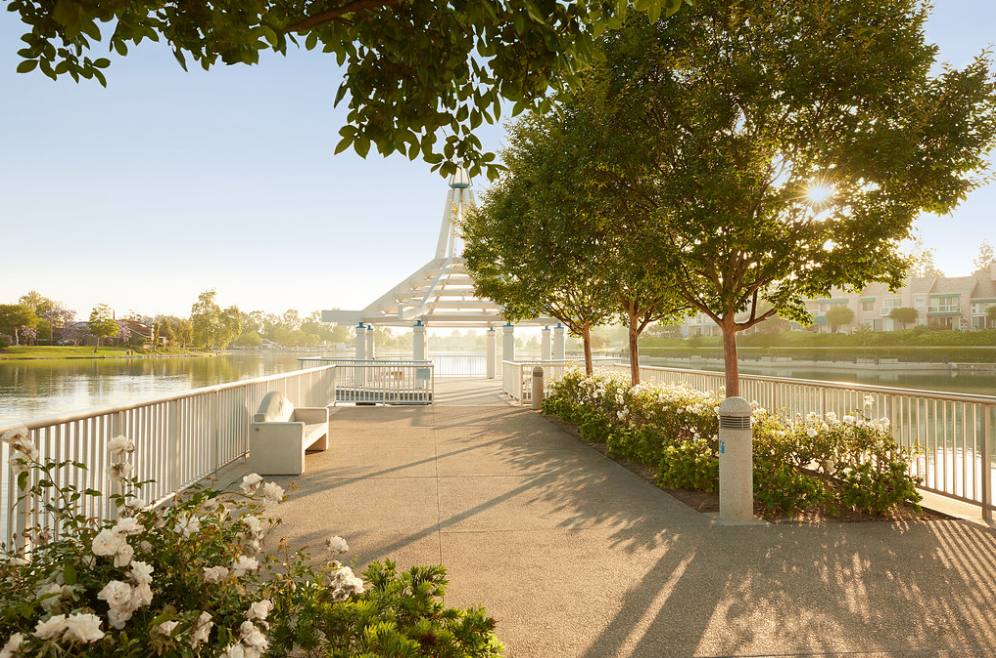 Welcome to Woodbridge… where the sound of kids riding their bikes until dusk evokes a cheerful sense of community. Connected by streets where mature trees line the road's edge, the homes and recreational spaces of Woodbridge in Irvine are thoughtfully planned with residents in mind. With five communities hugging two gorgeous lakes and a beach club, residents can boat and even fish.
With access to the Woodbridge Association featuring 22 pools, parks and open spaces, living in one of the Woodbridge apartment homes offers not just great living, but a way of life that embraces outdoor fun – where neighbors gather for barbecues, kayak on the North Lake – and residents experience a truly remarkable lifestyle.

Woodbridge Village Center
Open since 1979, Woodbridge Village Center recently underwent a $30-million reinvestment to upgrade the retail, dining and entertainment mix to complement longtime favorites, freshen the architecture for a coastal California feel, while adding an expansive outdoor setting for dining, relaxing and community gatherings that overlooks North Lake.
Situated literally in the center of Woodbridge, the central location of Woodbridge Village Center makes it easily accessible from all surrounding apartment communities.
The focal point is the addition of a "front porch" setting near the property's main entrance on Barranca Parkway. There, visitors can dine, chat, attend community gatherings or simply relax in an open-air, resort-like setting and enjoy unobstructed views of North Lake and the picturesque local mountains.
The community gathering spot with its expanded views will be created by the removal of a two-story, mixed-use building at the heart of the center. With a movie theater, grocery store, banks, dining options, yoga and dance studios and more, residents love this multi-dimensional retail center.
Apartments in Woodbridge
With a variety of spacious one-, two- and three-bedroom apartments or townhomes, this is a community for every age, within walking distance to schools and minutes away from Irvine Spectrum and major employment centers.
Schools Near Woodbridge
The Irvine Unified School District services the area, and consistently ranks among the nation's finest school districts and receives continual national recognition for its superior student performance, with Woodbridge High School named a California Distinguished School.
Woodbridge Village is also served by other award-winning middle and high schools, however schools are subject to change. For more information on school assignments, please call the Irvine Unified School District at (949) 936-5000.

Throwback Living
The village is uniformly designed in a Cape Cod style, creating a classical seaside village feel. Adjacent to parks, lakes and within walking distance to award-winning schools, this is the perfect home for young families. Each of Woodbridge's lakes has a "beach club" next to it, with a lagoon and a dock for pedal boat rentals, as well as kayaks, canoes, sailboats, and more. To learn more about Irvine, visit The Irvine Standard.