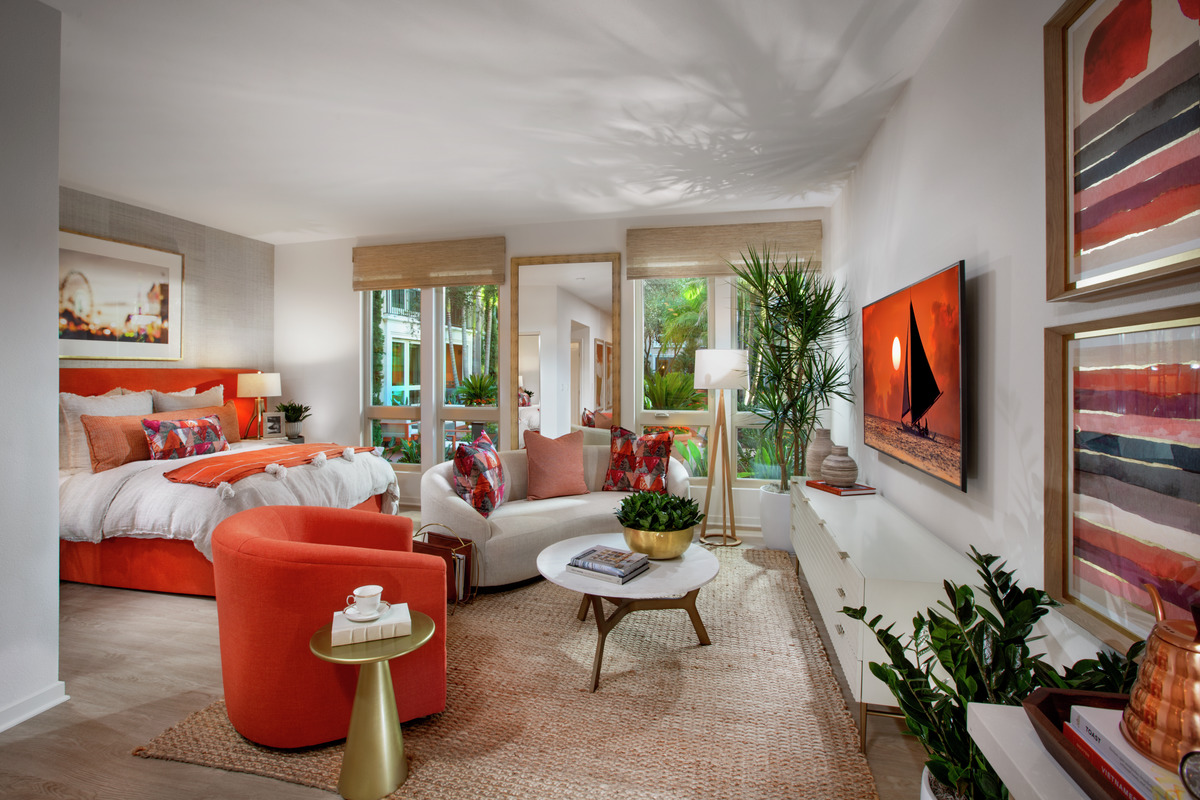 If you live in a small apartment, or a studio apartment, finding storage space for your belongings can be a challenge. Clutter, clothing, shoes – they all need their own place – but when you're living with only 700 square feet of space or less, it's very hard to make your living space look clean and tidy. 
We've done the research and found the top ideas to find space for all your favorite things. From inventive hacks, to adorable storage cabinets, no matter your home's size, you'll find inspiration for how to store more stylishly.
Kitchen Storage Ideas
Mix in open shelves for a less bulky option that also keeps most commonly used items close at hand.

Countertop items feel more organized when contained in trays and canisters.

Hang pots and pans from a hanging pot rack.

Refer to our previous article on

organizing a small kitchen

.
Living Room Storage Ideas
Be sure to purchase furniture that pulls double duty. There are many coffee tables, ottomans and benches that also open up for storage!

Wall-mounted shelves can go pretty much anywhere, even above the TV. Just make sure they're securely affixed to the wall and check your lease to ensure your lease allows for shelving installation.

Looking to create a workspace in a small space? A wall-mounted desk takes up far less space than a traditional one and can fit neatly into a tight corner or even a closet.

Read

our article

on additional storage ideas for small apartments.
Bedroom Storage Ideas
In a small bedroom, take advantage of storage space behind the door, or closet door. In a rental, use stick-on hooks or over-the-door racks to stash supplies and accessories. 

Over-the-door shoe organizers are great for keeping your shoe collection out of sight.

Maximizing space in your closet is possible with a variety of storage ideas. From special hangers to baskets, decorative boxes and more, your closet can hold twice as much stuff as you think.

Declutter the Clutter
Cut the clutter! Clutter is defined as items you want to keep but don't really need or have room to display. Certain keepsakes you want to hold onto can spend some time in a storage unit until you have a larger home. Paper records, greeting cards, mementos from special events (that aren't that special anymore) and old letters from past relationships are all things that no longer need to follow you from place to place. Also, check out the tidying up tips we pulled together from tidiness guru, Marie Kondo.
Take a day to go through all these things and see what you're willing to part with. You'll realize it's more than you think. Organize the remaining items in storage boxes, or special storage bins that can slide under your bed.
And finally, if you have a blank stretch of wall space, use it to your advantage by hanging a large mirror, even in spaces like your entry. These looking glasses will bounce natural light around, making even the teeniest corners appear bigger and brighter.