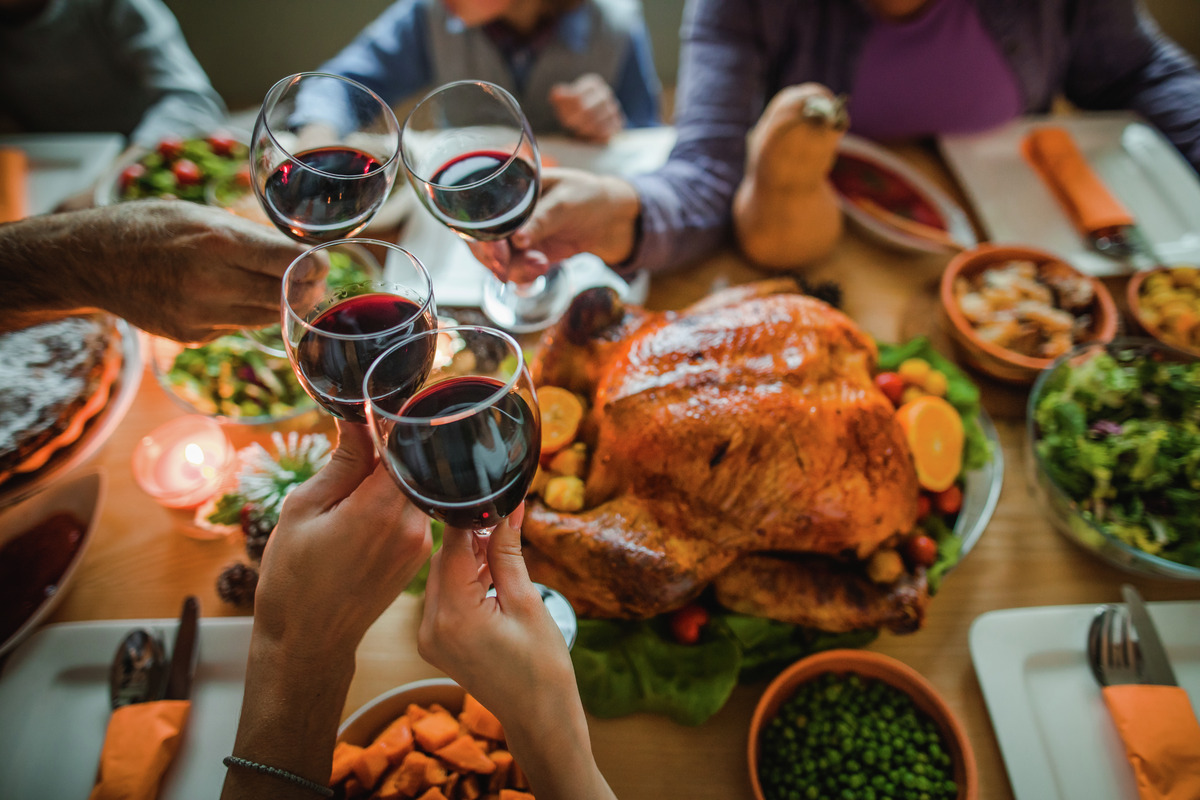 When you picture the ideal Thanksgiving, you may think of a large gathering with a widespread buffet and dining table filled to the brim with turkey, sides, and desserts. In an ideal situation, there's plenty of room for everyone to sit and enjoy their meal. But that's not always the case for those celebrating and hosting in an apartment.
Whether it's a Friendsgiving or traditional family gathering, there are ways to make your smaller space − especially a studio apartment − into a comfortable, convenient sanctuary in which to commune.
Start Planning
While there's still time, take a few days to think through your to-do's. Do you have enough serving utensils and dishes? Do you need to buy some extra cookware? Sit down and make a checklist that includes these:
Assess your apartment square footage and available space to see how many guests you can entertain.
Clean out the refrigerator so it's ready to hold lots of holiday dishes.
Find out who has certain food allergies and/or food-related preferences.
Prepare a list of ingredients you'll need to have on-hand as you cook.
Map out a timeline of how and in what order you'll need to cook certain dishes.
Will you do all the cooking – or will you allocate dishes to friends and family to bring.
Invite Your Guests
After you've mapped out your space, you can start making your guest list. Who are you inviting? And here's the most important rule on this front: Be honest and don't over-invite. Not only will it be stressful for you, but it'll be uncomfortable for everyone during the occasion. Be realistic with how many guests you can truly entertain and enjoy the camaraderie comfortably!
When you have your guest list outlined, then you can assess your seating. Do you need to reach out to a local party supply store or organization that will let you rent folding chairs? That way, you can supplement any seating you may already have. Or, consider investing in a folding table, if you'd like to keep it for years to come.
Thaw & Cook in Advance
This one is probably the most obvious, but defrost that turkey early! According to the USDA, to safely thaw your turkey, you need around 24 hours of defrosting in the refrigerator per 4 to 5 pounds of turkey. So, if your turkey weighs around 16 pounds, it'll need about four days to thaw. Here's a calculator to help you navigate your turkey day expectations.
Now, ask yourself:
What are some dishes you could prepare ahead of time? After all, there is only so much time on the morning of Thanksgiving. Try to narrow down the day-of cooking as much as possible.
How much oven space do you have, especially while the turkey is staying warm? Will you have room for guests' dishes when they arrive?
Are there dishes you could cook on the stove or in a crockpot instead of the oven? Sautéed vegetables instead of roasted, maybe? If possible, use the stove to free up oven and counter space.
Are Any of Your Guests Vegan?
To avoid that awkward moment when you realize a guest isn't eating, be sure to get all dietary preferences beforehand. If a guest flags that they don't eat any animal products, don't be shy about asking them to help you refine the menu! They will (likely) appreciate your thoughtfulness. Ask them if there are any vegan Thanksgiving recipes they can point you to, or what they prefer to eat as a main course. 
You can find vegan versions of most dishes, including casseroles, vegetables, mashed potatoes and gravy, rolls, cranberry sauce, sweet potatoes, stuffing, and even pumpkin pie! Here's a list of how to accommodate vegan guests.
Go the Potluck Route
It is more than socially acceptable to ask your guests to bring a dish. Not only is it courteous for the whole party to contribute, but it gives everyone a chance to showcase something delicious on the table.
Feel free to ask your guests to bring dishes to add variety, but make sure they give you a heads up about what they're bringing so you don't duplicate − and so you can make sure there's enough room for heating in the oven or keeping cool in the refrigerator.
Get Your Apartment in Shape to Entertain
Prior to prepping for the Thanksgiving meal, you'll want to prep your apartment.
Deep clean and "guest-proof" your apartment: Are your guests bringing children? Consider putting valuable items and personal items, such as medication, in your bedroom.
Rearrange your layout: To accommodate a group of people, you may need to rearrange your furniture. Moving things around is totally normal for entertaining in an apartment. After all, it's not so much about living in the space on this day. It's about entertaining.
Stock up: Make sure your apartment is stocked with the essentials, such as plenty of bathroom tissue, air freshener, paper towels, hand soap, and cleaning products.
Create the Thanksgiving Ambiance
This is your chance to set the tone in your cozy space. Much like the guest list, you'll want to keep your autumnal decorations somewhat modest and not too obstructive.
Choose small centerpieces for the table so that guests can see one another and mingle.
Let in the natural light from the windows. If it's a cloudy day, add some sparkling string lights around the windows for a warm glow.
Light the fireplace, and add some candles to the hearth, festive throw pillows to the sofa, and a wreath to the front door.
Set the tone in the background with the Macy's Thanksgiving Day Parade, a football game, or Hallmark movie. Similarly, turn on some holiday music on traditional vinyl or a Spotify playlist.
Relax and Dine
When the table and ambiance are finally set, it's time to wine and dine your loved ones in your own space. Enjoy making memories in your apartment home with those you care about most. Happy Thanksgiving!