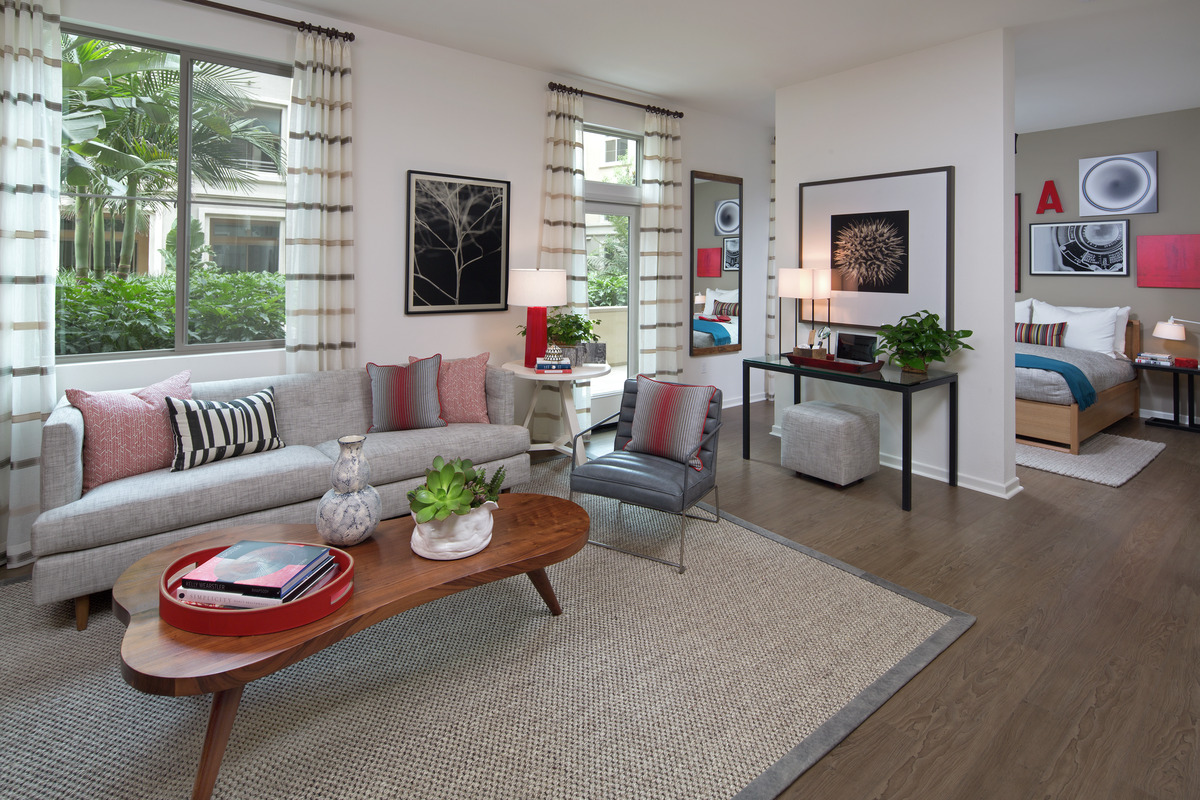 Sometimes, a little goes a long way. That's a studio apartment, which serves as an affordable, modern floor plan for renters across the country. Here's what you should know as you're searching for your slice of urban paradise.
What is a Studio Apartment?
Found mostly in big cities and other high-density areas, studio apartments come equipped with a single space that houses a bedroom, living room, dining room and kitchen all in one open-concept living area. The bathroom is the ultimate exception, by law, as it's required to be separated from the rest of the apartment by a wall and door. 
Free Range vs. Fixed Space
Normally, the only "fixed" area of a studio apartment – other than a bathroom and laundry hookups – is the kitchen, which may be separated from the main living and sleeping areas via an island or bar. In some cases, modern studios are incorporating galley kitchens, which offer a more spacious, sophisticated vibe to the unit. Tenants are then free to arrange the rest of the apartment according to their needs and preferences. 
Who's Looking for a Studio Apartment?
Studio apartments tend to be a popular choice among young singles who are just starting out and want a simple, affordable place where they can live independently. To these individuals, studio apartments have the advantage of being relatively inexpensive to furnish. In most apartment communities, you'll also find that studio apartments are the cheapest units, depending on the local area's demand.
Professionals who spend a lot of time traveling, work long hours or prefer to spend their evenings out may also find that studio apartments meet all their living needs for a minimal expense. While they may be small in size, many studio apartments come with modern furnishings and a minimalist edge.
Decorating Your Studio Apartment
Because studio apartments are so compact, efficiency is the key to furnishing this floor plan. Depending on the square footage available, a queen-size bed, chest of drawers, love seat, coffee table, bookshelf, desk and dinette set may be all the pieces you need to move in. 
If this leaves little space to move around, consider eliminating the full-size bed and investing in a high-quality sleeper-sofa that you can open up at night and then close in the morning. There are also modern variations of the classic Murphy Bed available – the bed invented specifically for this kind of compact living. The frame and mattress are hinged to the wall and raised at will, thus saving space.  
Having a laptop computer with a Wi-Fi connection can eliminate the need for a desk, so your dining table can then double as your workstation.
Divide and Conquer
If you have a large studio apartment (500 square feet or larger), you may consider separating certain areas using curtains, dividers, screens or even moveable walls, which are available at larger home furnishing stores. In smaller units, however, too many dividers can have the opposite effect. 
Sometimes, it's more efficient and comfortable to live in a single, contiguous space than to turn your apartment into a maze-like series of tight cubbyholes.
Should You Prioritize Size?
In the end, apartment shopping is all about priorities. What's most important to you? Location? Size? Affordability? A studio apartment may be right if you're looking for an affordable way to live near the city center.
Studio apartments are available for rent in many Irvine Company communities throughout Southern California — including Los Angeles, Orange County and San Diego − as well as Northern California. It's time to find a studio apartment that meets your expectations now.  
Irvine Management Company, a licensed real estate broker DRE Lic # 02041810.