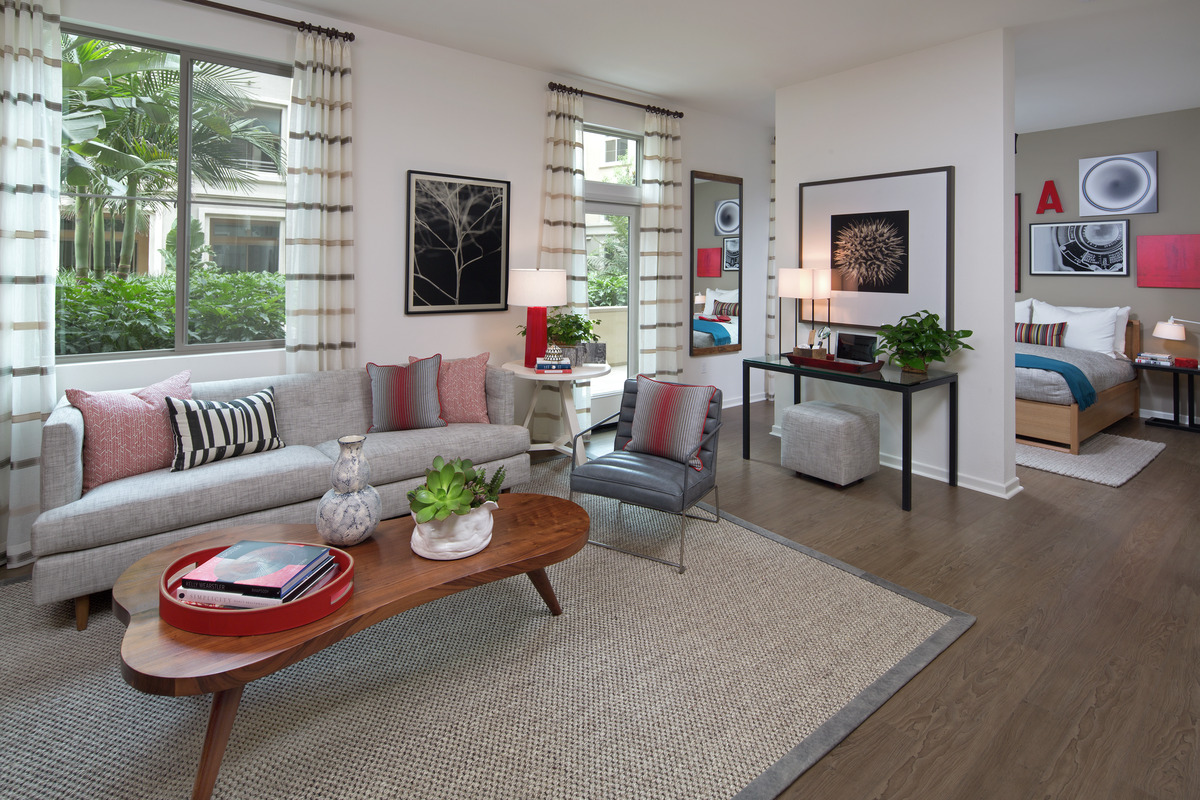 Studio apartments are one of the many floorplan options available to renters across the country. Found mostly in cities and other high-density areas, studio apartments are basically a single room that combines the function of a bedroom, living room, dining room and kitchen in one all-purpose living space. (Yes, the bathroom is still separate.)
Normally, the only "fixed" area of a studio apartment is the kitchen — which may or may not be separated from the main living/sleeping area by an island or counter — leaving the tenant free to arrange the rest of the apartment according to his/her needs and tastes.
Studio apartments tend to be popular with young singles who are just starting out and want a simple, inexpensive place where they can live independently. To such individuals, studio apartments have the advantage of being relatively inexpensive to rent and to furnish. Studio apartments tend to be the least expensive units available in any particular building, going for just a few hundred dollars to a thousand dollars or more per month, depending on area demand.
Professionals who spend a lot of time traveling, who work long hours or prefer to spend their evenings out may also find that studio apartments meet all their living needs for a minimal expense.
Studio Apartment Decor
Because studio apartments are compact, efficiency is the key to furnishing such a layout. Depending on the square footage available, a queen-sized bed, chest of drawers, love-seat, coffee table, bookshelf, desk and dinette set may be all the pieces you need to move in. If this leaves little space to move around, consider eliminating the bed entirely and investing in a high-quality sleeper-sofa you can open up at night and then close in the morning. There are also modern variations of the classic "Murphy Bed" available — the bed was invented specifically for this kind of compact living — in which the frame and mattress are hinged to tour bookshelf and can be raised and lowered at will. Having a laptop computer with a WiFi connection can eliminate the need for a desk as your dinette table can then double as your workstation.
If you have a large studio apartment — say, 500 square feet or larger — you may consider segregating certain areas using curtains, dividers or even moveable walls available at larger home furnishing stores, such as IKEA. But be careful. It's sometimes more efficient — and comfortable — to live in a single contiguous space than to turn your apartment into a maze-like series of tight cubbyholes.
Studio apartments are available for rent in many Irvine Co. rental communities throughout Southern California — including Los Angeles, Orange and San Diego counties — as well as the Bay Area.
For more information, try our apartment search feature to find quality lease opportunities available throughout Northern and Southern California.