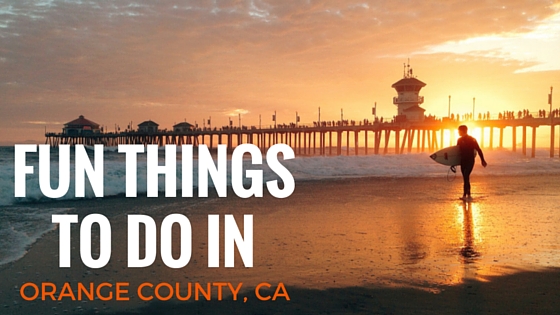 Looking for fun things to do in Orange County, CA? We've got a few ideas for you, check them out below!
Take in the breathtaking views of unique houses and boats that line Huntington Harbor on a kayak or a paddle board! Residences and sea vessels of all shapes and sizes can be found throughout harbor… experience them all while getting some great exercise right on the water. There are a handful of companies in the area renting out kayaks and paddle boards if you don't have your own. Water activities like this are definitely at the top of our list of Huntington Beach things to do. It's a great way to spend an afternoon!
There are a plethora of breweries in Orange County, each with it's own unique personality. Some that come to mind are Bootleggers Brewery in Fullerton, Noble Ale Works in Anaheim, Pizza Port in San Clemente,  The Bruery in Placentia, and Rancho Las Lomas in Silverado. For example, Rancho Las Lomas even has a zoological garden complete with zebras, tigers, and more. Beer tasting is a perfect day time/afternoon activity for a Saturday or Sunday, especially for craft beer connoisseurs.
In our opinion, Laguna Beach is one of the most distinct beach cities in all of California. You can definitely miss its undeniable charm when driving by if you're not paying attention; which is why it's a MUST to explore on foot. There are several boutiques, restaurants, bars, dessert shops hidden in nooks and crannies throughout. If you're not careful, it's easy to walk right passed an alleyway filled with stores. You can even take a Laguna Beach trolley around town! To us, Laguna Beach is part San Francisco, part European city, all rolled into a quaint Southern California beach city. If you're looking for new things to do in SoCal, we highly recommend this!
The great thing about Orange County is that both of its professional sports teams are in season practically year round. You can't go wrong with a Los Angeles Angels of Anaheim or an Anaheim Ducks game; both sporting events are unique spectacles to behold in their own right. There are also plenty of nearby restaurants, bars, and even a brewery many locals hit for a few hours before game time. This is definitely at the top of our list of fun things to do in Anaheim (if you don't want to fight the crowds at Disneyland that is).
Catalina Island is one of the most serene and picturesque destinations in all of California, but for some reason, it's one of the Southern California attractions a lot of people seem forget about. Reminiscent of a misplaced Hawaiian or Mediterranean island, there are plenty of activities you can enjoy on the island. Water sports of all kinds and zip-lining are awesome activities that come to mind. It's also not a bad idea to rent a golf cart and explore on your own!
Southern California is one of the most desirable places to live in the entire country. Within this region, the cities of Irvine and San Clemente have long held the reputation of having the most beautiful homes in the area. Why not check out a few million dollar homes in two cities that are perennially ranked near the top of "Best Cities to Live In" lists. The best thing about this idea is that it's a fun and free thing to do in Orange County that you could easily make a day out of. It's also a fun and unique date idea!
Orange County is home to several world renowned shopping centers that deviate from your typical shopping experience. Take the Irvine Spectrum Center (located in Irvine) and Fashion Island (located in Newport Beach) which invite visitors to dine and lounge in addition to shop. Each retail center also aims to serve as a gathering point for culture and entertainment for the community; for example, Irvine Spectrum Center boasts an illuminated Giant Wheel, antique-themed carousel, and seasonal events like fashion shows and ice rink public skating! Irvine Spectrum Center actually generates more visitors than Disneyland per year and is at the top of the list of things to do in Irvine. Fashion Island meanwhile features premier shopping and dining experiences in addition to a movie theater, farmers markets, music and art shows!
Looking to get festive and get in the holiday spirit in Orange County? Check out the Newport Beach Christmas Boat Parade and Ring of Lights and see how the beach cities spread holiday cheer. This year, the 107th Newport Beach Christmas Boat Parade kicks off on December 16th and runs until December 20th. Each night, the parade begins at 6:30pm at Bay Island and wraps up at about 9pm in the same location. It's a perfect opporunity to bundle up, grab a cup of hot cocoa and take in the show. In addition, the Ring of Lights features waterfront properties going all out with their Christmas light decorations. It's great fun for those of all ages and a can't miss during the holiday season!
*If you're looking to make a move to Orange County, check out our Orange County apartment guide! It's a great resource to find the perfect living situation tailored for your needs.