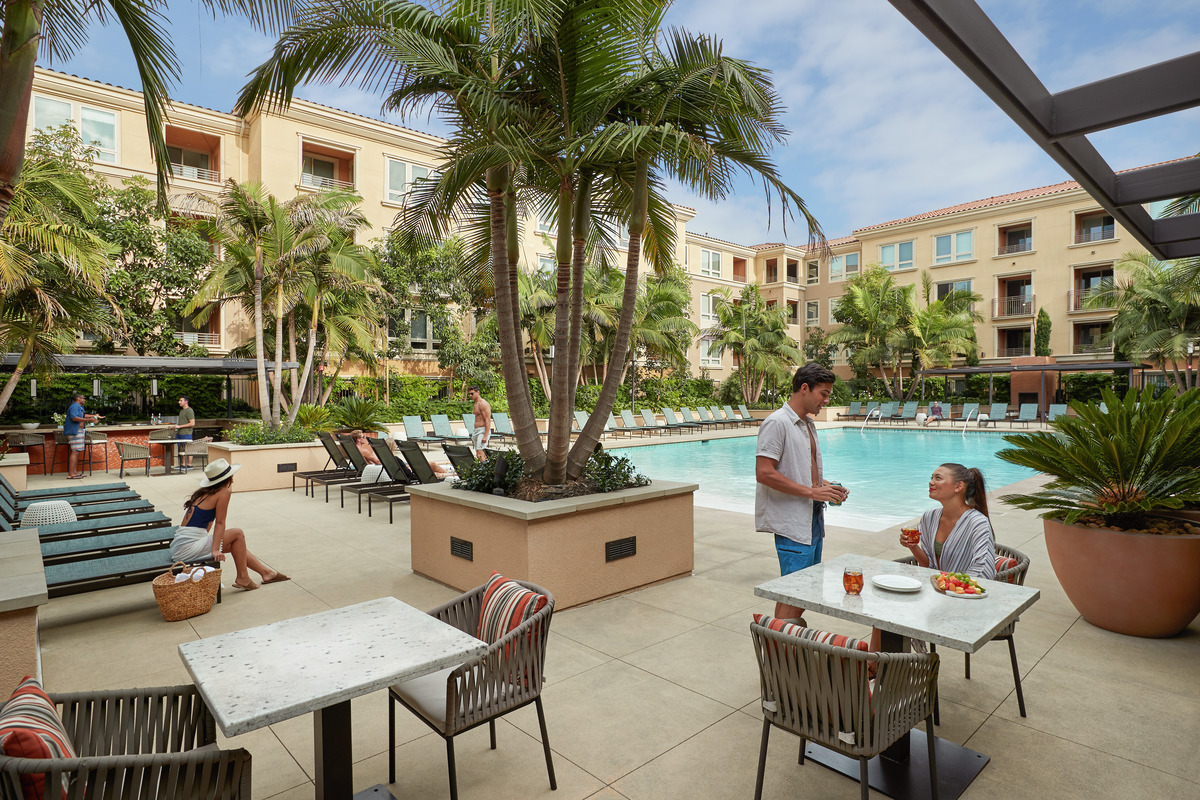 Villas at Playa Vista Playa Vista, CA, supports the live-work lifestyle with iLounges and co-working spaces, but more importantly, have spaces where residents can connect and socialize — whether it's at a cooking class held in a gourmet kitchen or just relaxing by an outdoor fire pit.
Irvine Company Apartment Communities in particular has introduced seamless indoor-outdoor living spaces that promote activity, relaxation, entertainment, and overall well-being, with the underlying premise that residents want to work out, entertain and socialize close to home. In essence, each community has consolidated activities in one centralized location: where you live is right next door to where you relax (e.g., by a resort-style pool), work out (at a state-of-the-art gym), hold dinner parties (in a chef's kitchen), or work from a modern iLounge.
At Villas at Playa Vista, amenities create immersive and authentic communal spaces: fitness centers aren't just rooms with equipment, but destinations where modern fitness trends are developed to their fullest potential. Socialization is a big part of the planning exercise areas, which has led to the addition of movement/yoga and spin studios. The intent is to deliver spaces that are engaging, approachable, and intuitive. It's about people before it's about equipment.
Pools provide a vacation-like setting with the addition of seating nooks, barbecue areas, outdoor fireplaces, and cabanas. Connecting the indoors with the outdoors is another aspect that tops the design team's priority list, with the goal that residents move between these spaces fluidly.
Villas at Playa Vista also has multiple chef's kitchens equipped with long dinner tables for people to enjoy a meal together. These rooms can be used by residents, while also hosting special community gatherings, cooking classes, and wine tastings. The Design team at Irvine Company believes the importance of these spaces is providing residents the opportunity to entertain guests.
The spaces were not designed simply based on trends, but with the intent to promote a sense of community and togetherness. Amenity areas are truly successful when residents see them as an extension of their homes and as part of a lifestyle layer in their community.
At the end of the day, Villas at Playa Vista is a rich community with more than just apartment homes. It's a place where residents can have access to beautifully designed outdoor spaces, an extensive fitness program, and an array of personalized services, including concierge services at
Montecito
. An artful blend of L.A. sophistication and coastal California living, Villas at Playa Vista sets a new standard. Perfectly combining elegance with amenities, this is a place where how you live integrates perfectly with where you live.