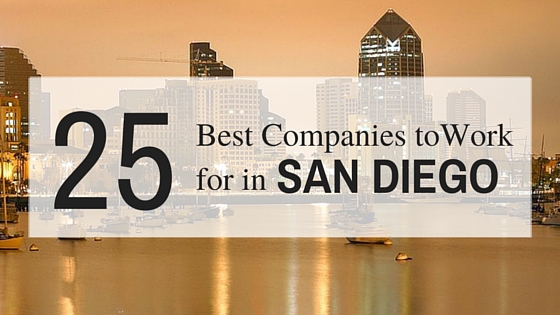 There is no doubt that San Diego is one of the best places to live in all of California… but to live in San Diego, and live comfortably, you probably need a great job. Thankfully, there are a lot of great companies that have decided to put down their roots in San Diego. We've taken the liberty of going through and curating a list of the best companies to work for in San Diego so that you can make a more informed decision on where to take your career in California's burgeoning southern-most metropolis.  
Here are the best companies to work for in San Diego (list was curated from sources such as San Diego Business Journal, Fortune, Indeed.com, OC Tanner, and The San Diego Union Tribune):
BASED ON CULTURE
Scripps Health (Health/Medical)
Qualcomm (Telecommunications)
Underground Elephant (Marketing Software Solutions)
Destination Concepts Inc (Events/Hospitality)
BASED ON EMPLOYEE REVIEWS
Sempra U.S. Gas & Power (Oil, Gas, Energy, & Utilities)
MindTouch, Inc. (Information Technology)
Accredited Debt Relief (Business Services)
Bank of Cardiff (Finance)
Average 4.75/5 rating on Glassdoor!
TOP LARGE EMPLOYERS
Sharp HealthCare (Health/Medical)
YMCA of San Diego County (Youth Development, Community Relations)
Barona Resort & Casino (Entertainment)
University of California, San Diego (Education)
Kaiser Foundation Hospital (Health/Medical)
Intuit (Personal Finance and Small-business Finance)
TOP MIDSIZE EMPLOYERS
Renovate America (Finance for Energy Products)
Client Solution Architects (Federal Governement Contractors)
Wilson, Sonsini, Goodrich, and Rosati (Law Firm)
Dr. Bronner's (Intermediate Goods)
Verimatrix (Software Development)
San Diego Marriott Gaslamp Quarter (Hotel/Hospitality)
TOP SMALL EMPLOYERS
Zeeto (Marketing Technology)
Cali Bamboo (Sustainable Building Products)
MassMutual San Diego (Life Insurance, Annuities, Retirement Investments)
Miva, Inc. (Web-based services)  
Ledcor Group of Companies (Construction)
If you're able to land a job in one of these companies or another we haven't mentioned in this list, be sure to check out our San Diego apartment listings for the best rental living options in the area.