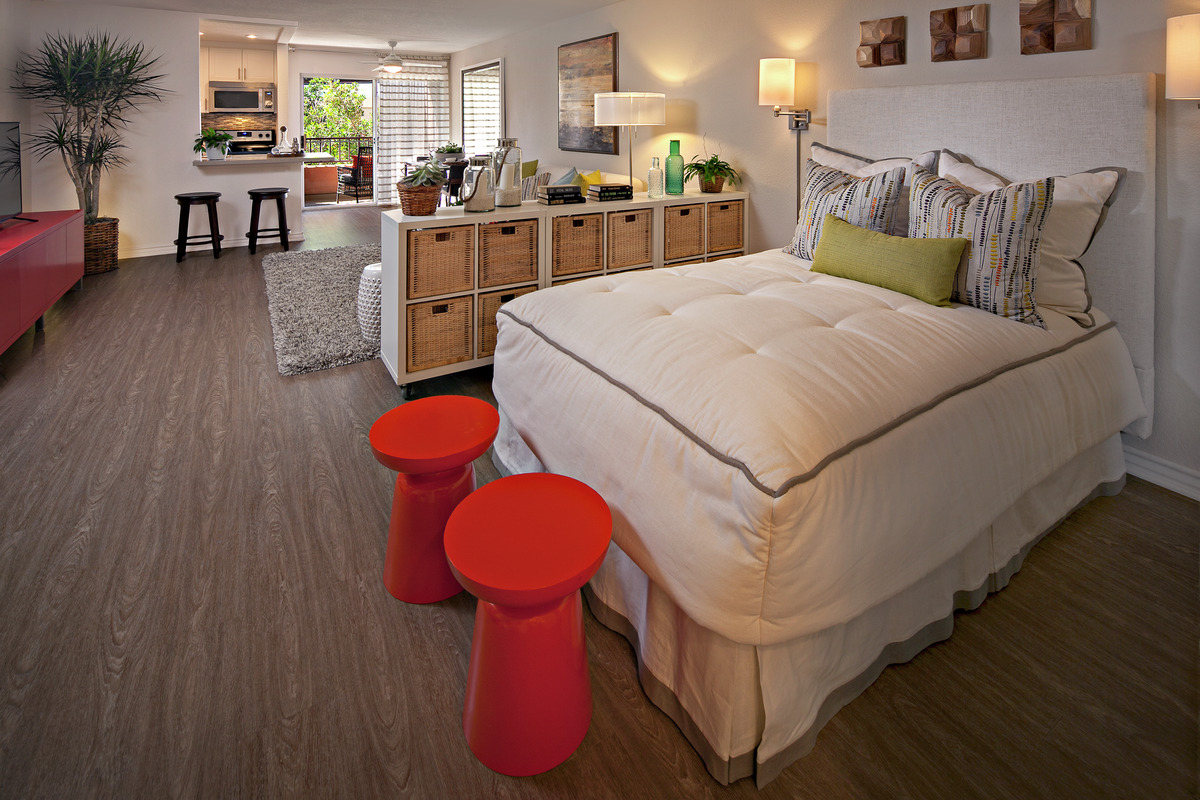 The tiny house trend has been popularized in recent years as people are downsizing and adopting minimalist living in the realization that an excess of "stuff" is just weighing us down.
Affordability, efficiency, and eco-friendliness have become more important as we begin to realize that a more scaled-back lifestyle has major economic benefits. With the cost of living in San Diego, the studio apartment has become an attractive option for renters.
San Diegans Embracing Minimalist Living
The studio apartment is a great solution to minimalist living. Studio apartments come equipped with a single space that houses a bedroom, living room, dining room, and kitchen all in one open-concept living area – and you don't have to sacrifice comfort or lifestyle! When you actually go out and start looking, know that apartment shopping is all about priorities. What's most important to you? Location? Amenities? Affordability? A studio apartment in San Diego may be right if you're looking for an affordable way to live near the city center.
Studio Apartments in Downtown San Diego: Harborview
Live in the Marina District with walkable access to downtown shopping, local eateries, outdoor recreation, and a range of employers. The excitement of living in downtown San Diego brings you the energy of Gaslamp Quarter with easy commuting options on the Green Line Trolley.
At Harborview Apartment Homes, you'll enjoy panoramic views of the downtown skyline while you unwind poolside, fireside, or when dining al fresco from the boutique-style rooftop deck.
Studio Apartments in La Jolla: Villas at Renaissance
Punctuated by bright splashes of bougainvillea, dramatic landscaping surrounds beautifully remodeled amenity spaces and apartment homes finished with stainless steel appliances and crown molding.
This resort-style luxury community includes four saltwater swimming pools, a fitness center, a theater, and billiards room. And the location can't be beaten! La Jolla is full of natural beauty and endless activity. Browse the beautiful seaside village for fine dining and one-of-a-kind finds on Prospect Street.
Tour Villas of Renaissance Virtually
Start the Studio Apartment Hunt Today!
Now, more and more apartment communities are offering self-guided tours. Irvine Company offers Tour Guide, a mobile touring app that puts you in charge of your apartment search.
Be sure you take notes and ask yourself questions before or during your tour:
Is there enough square footage for your needs?
Will your furniture fit?
Is there enough closet space?
Are you happy with the amenities?
Does the parking situation work for your needs?
San Diego is the second-largest city in California with one of the best climates in the world. The reason it's more desirable than other cities is obvious: miles of sandy beaches, some of the best shopping and dining, gardens at Balboa Park, mixed with a laid-back culture SoCal is famous for.