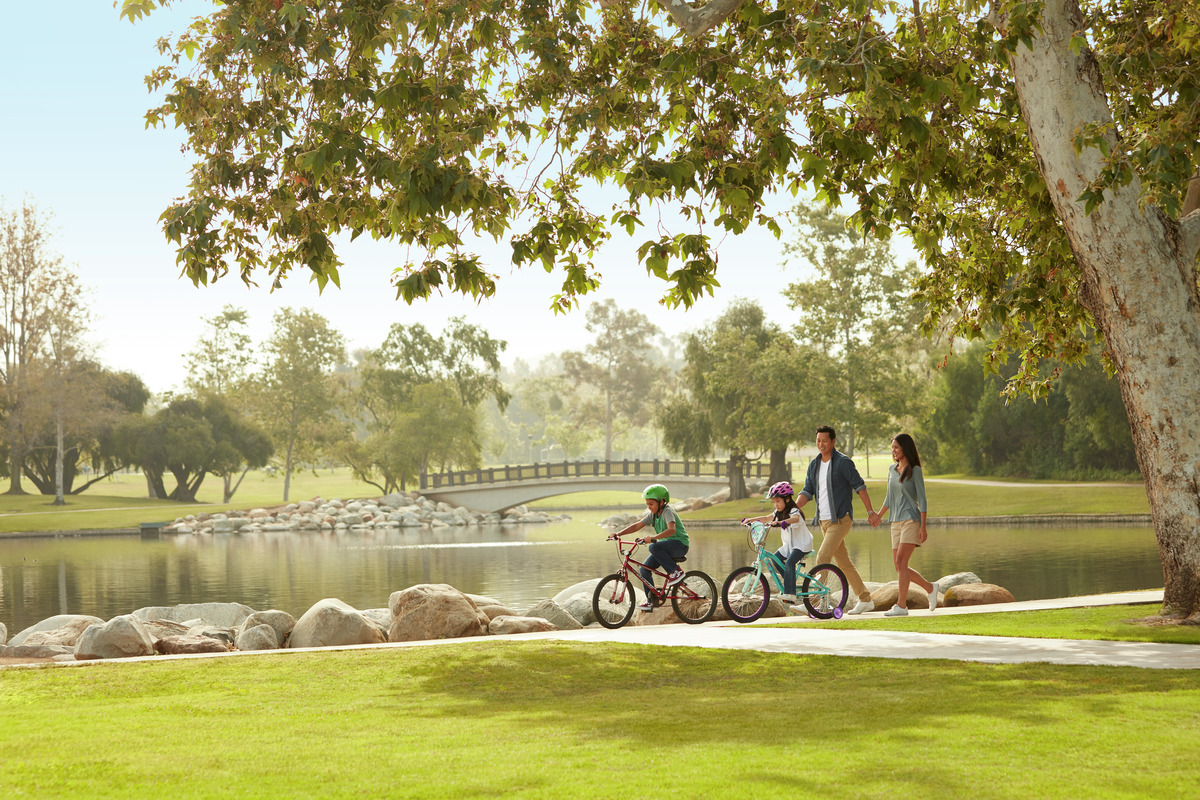 If you're thinking about moving, consider Irvine, where you'll have it all. Live where tree-lined streets and pathways connect all that Orange County has to offer: picturesque yet convenient living close to beaches, open spaces, and luxury retail centers, all just moments away from everywhere you need to be.
The city is home to major jobs, business and employment opportunities, award-winning schools, and higher education at UCI, as well as scenic parks, trails, and open spaces. Roughly one-third of the entire city is permanently preserved open space. From small neighborhoods like Woodbury or Woodbridge to exciting urban areas like Irvine Spectrum – this popular OC city has something for everyone and more.
Irvine Community Guide is the ultimate directory. Here, you can discover why it is one of the best and safest places to live in the country, and learn all the ways this masterfully planned community offers an exceptional quality of life.
Irvine Quality of Life
The city and its master plan received high marks from residents in a scientific public opinion poll conducted Aug. 27-Sept. 3, 2019, reported initially by The Irvine Standard.
"No other American city has been guided by a master plan that's created this remarkable balance of homes, jobs, open space, and great schools," says Chamber CEO Bryan Starr. "It's why we enjoy such a high quality of life and attract the best companies from around the world."
Irvine Schools
Irvine Company specifically develops new home and apartment communities surrounded by award-winning schools in California, while also investing within the districts themselves. In no small part because of the company's funding, the city is frequently recognized among the top school systems in California and the United States. Studying data from the U.S. Department of Education, test scores, college data, and ratings collected from Niche users, the top school district in Orange County is the Irvine Unified School District.
Living at Irvine Spectrum
Living near Irvine Spectrum Center—one of the most exciting entertainment hubs in Orange County—is an exciting place to call home. Each apartment community offers its own wellness-centric resort-style amenities like state-of-the-art fitness centers and yoga studios, saltwater pools, lush outdoor spaces, on-site shops, and services. Plus, with Spectrum Center in your backyard, it's easy to find the right balance to live well. Find everything from studio to one-, and two-bedroom apartments in Irvine, as well as three-bedroom townhomes!
Search Irvine Spectrum Apartments
Woodbury and Woodbridge in Irvine
Nestled in the northern part of the city, Woodbury Village has it all: proximity to schools, the convenience of shopping at Woodbury Town Center, as well as meandering trails, and open spaces. With tree-lined streets, gardens, pools, and traditional parks, a village-centered school, and a clubhouse, as well as lots of nearby shops and restaurants, Woodbury exemplifies the neighborhood feel.
In the heart of central Irvine, Woodbridge is uniformly designed in a Cape Cod-style, creating a classical seaside village feel. Adjacent to parks, lakes, and within walking distance to award-winning schools, residents love the village lifestyle. Each of Woodbridge's lakes has a "beach club" next to it, with a lagoon and a dock for pedal boat rentals, as well as kayaks, canoes, sailboats, and more.
If you're moving here, welcome home to an idyllic city, close to award-winning schools, neighborhood shopping, and major employers. Learn more at Irvine Community Guide and discover why it's California's most successful master-planned community.