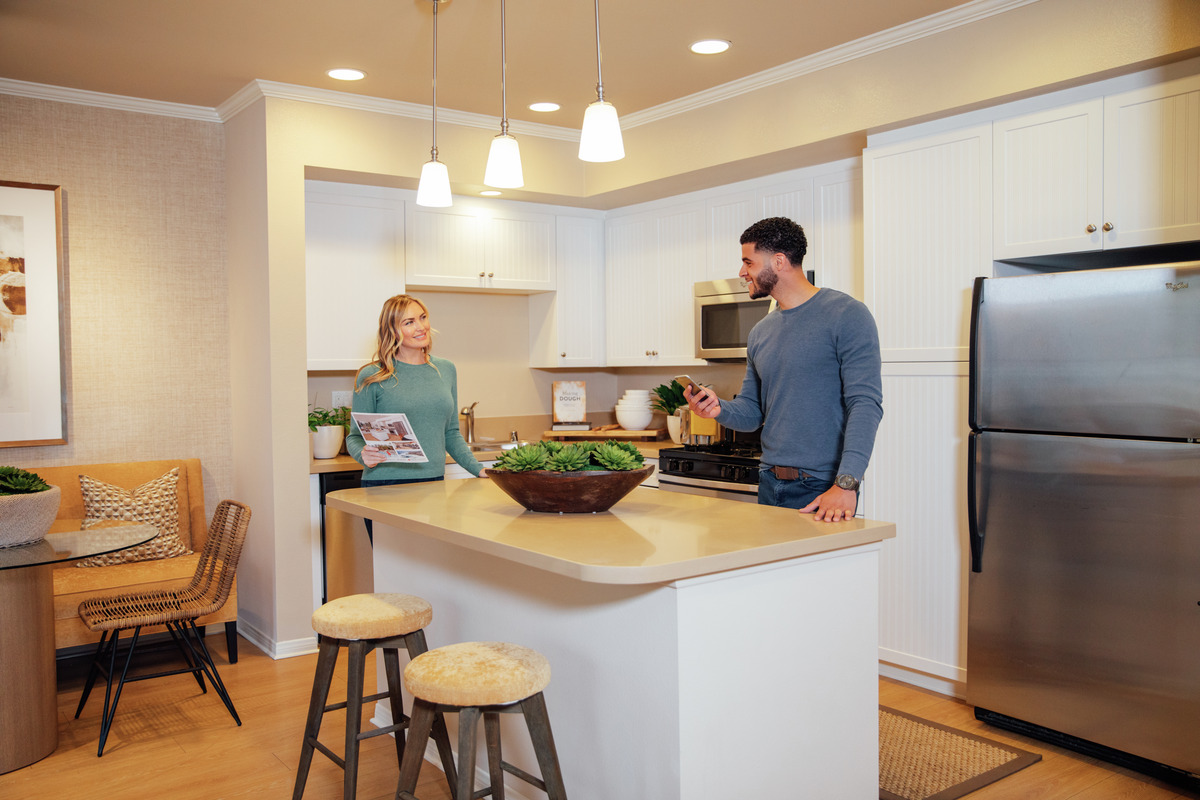 For many people, especially students, renting their first apartment can be exciting and challenging at the same time. In California, the legal age to enter into a contract – including a lease to rent an apartment – is 18 years old, however, there are exceptions for emancipated minors and individuals who are married or in the military.
How to Prepare for Renting an Apartment
Be sure you have a viable income and/or qualifying assets. Working at the same place for at least a year is a great way to establish your responsibility.

Here's What You Should Have Ready:
A valid form of identification

Know your financials, including your credit score 

Proof of income or assets, bank statements, and/or three recent paystubs

Vehicle registration and proof of insurance if you plan on securing parking
How to Find Your Credit Score
Many first-time renters don't have an established credit history. A credit report is one of the things that most potential landlords or rental companies will review in order to determine whether or not you qualify to rent an apartment. You also may be asked if you have a checking account and savings account. If you don't have a credit history, you may need to pay a higher security deposit and/or get a guarantor/co-signer.
According to the credit reporting agencies:

Anything over 800 is excellent

740-799 is very good

Between 580-669 is fair

Anything below 579 is poor
Before apartment shopping, it's a good idea to get your free Equifax and TransUnion credit score so you know where you stand. You should do this months prior to apartment shopping so that you have time to fix or dispute issues on your report, should you have them. If the score is less than what you'd like to see, be sure to meticulously go over the report… there may be incorrect data you can dispute. 
How to Rent an Apartment as a Student
Most landlords and rental companies have income requirements – this can be pretty tricky to prove if you're doing a full load at school. Student loans might be the only source of money you have access to, and if that's the case, it's important to know that there may be ways to qualify to rent an apartment with your student loan funds. Here are 3 ways you may be able to qualify to rent an apartment when you're a student.
Have a co-signer on the lease

Pay a larger deposit 

Find a roommate
Budgeting to Rent an Apartment
Realistic financial planning tops the to-do list for a first-time renter. Make sure you've saved enough for move-in costs, rental insurance expenses, deposits, pet fees, and setting up your utilities. Also, consider your future goals and whether you expect your current income to continue. Don't let your moving expenses get so high you can't afford your lifestyle.
Costs to Consider:
Monthly rent
Monthly utilities: cable, gas, water, electric, internet
Renter's insurance
Monthly food/grocery expenditures
Car and/or travel costs & insurance, if applicable
School tuition/costs, if applicable
Pet rent, if applicable
If you're living alone and the expenses seem too high, consider the cost of an additional room and having a roommate.
Have Questions About Renting an Apartment? Ask Questions!
Here are a few questions new renters may not know to ask. Be sure there are no surprises come move-in day after you've signed your lease!
What utilities and amenities are included?

Will rent increase over time?

Is renters insurance required?

What are the terms of the lease?

What parking is available for tenants?

What is the maintenance policy?

What are the pet and guest policies?
What to Know When Signing a Lease
Be sure you read and understand your lease before you sign it. A lease generally includes the deposit amount, the monthly rent, the term of the lease, and any rules or regulations for the property. If this is your first lease, consider discussing the lease terms with a knowledgeable adviser or lawyer, and be sure to ask the landlord or property manager all your questions before you sign.
California Apartments for Rent
Please note: This blog post is not legal advice, and should not be treated as such. The opinions expressed here are meant purely for an educational discussion and as general information only.