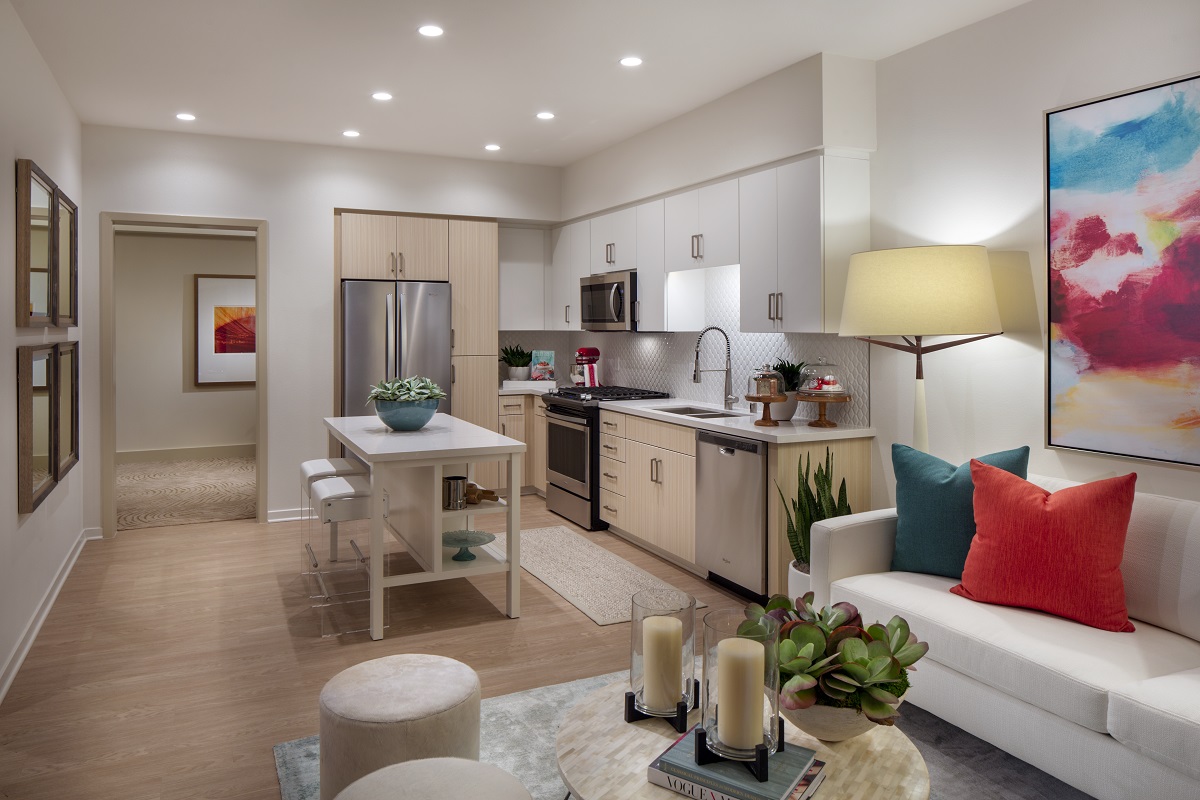 Not only does decorating make your home look pretty but it also is an external expression of your inner self. Paint, furniture, light fixtures, window treatments, and wall hangings are elements that, in one way or another, reflect your personality and interests. The décor in your apartment makes a statement – intentional or not.
Decor need not be expensive to be effective – or tasteful. A creative decorator can do more with $1,000 worth of thrift store knickknacks than $100,000 spent carelessly on over-the-top kitsch. Good decorating is about having intention, and then making the most with what you have.
Because renters are unable to make permanent changes to the floor plans or light fixtures in their apartment, they are often limited when renovating their space. However, living in an apartment doesn't have to hold you back from releasing your interior designer self.
Here are some basic apartment decorating tips to help you decorate on a budget:

Paint
Whether you're a seasoned apartment dweller or first-time renter, it's probably no surprise to find the walls of your apartment to be painted a shade of off-white or beige upon move-in. However, if you're longing for a fresh pop of color, review your lease agreement to see if you're permitted to paint one or more walls. Chances are you'll have the freedom to paint, as long as that paint can be later covered over with a single coat of off-white or beige.
If possible, upgrade to a designer shade of blue, green, gray, yellow, brown or gray for a chic, modern look, or try a soothing powder blue to brighten up your space. You might want to rethink that navy blue accent wall because darker colors are not easily covered without needing extensive primer and extra labor time.
Floors
Flooring in an apartment is not easily replaced. However, if the linoleum tile in your kitchen is not meshing well with your style, consider covering your floors with a throw rug or two. Ideal for renters, throw rugs are usually lightweight and easy to clean. Whether you want to conceal dated flooring or add a little flare, throw rugs can revamp a space by creating a focal point and adding a touch of personality to your apartment.
If the living room is the hallmark of your home, a vibrant rug will easily lure guests to gather on the sectional sofa for game night. Throw rugs can be remarkably helpful when decorating a studio apartment. Define separate "rooms" with different patterned rugs in a similar color palette.
Wall Art
Whether it's a print of classic artwork, a photo of a city skyline, or a poster of your favorite movie, wall art is the easiest, most budget-friendly way to express yourself. The decorating possibilities are limitless when adding wall hangings such as a:
Gallery wall: Display who and what is most important in your life by curating a collection of family photos, wooden signs, vinyl records, and other kitschy knickknacks to create.
Statement piece: If you're faced with a large, empty wall, fill the space with a large eye-catching piece. Use this as a place to showcase a framed post-modern painting or the macramé tapestry you found at a craft fair.
Mirror: Open your space by adding a large mirror above your sofa or headboard.  This optical illusion will make your apartment appear more spacious, bright, and stylish.
Window Treatments
Make a major impact on your apartment's aesthetic simply by installing curtains. Floor-to-ceiling curtains will elongate the walls, visually adding more square footage.
Play with different colors and textures to create a completely customized look.
Sleek fabrics such as sateen and silk will create an ultra-modern ambiance, while textured material such as a medium weight linen adds a cozy element to your space.

Lighting
Table-top and free-standing lamps can add light and atmosphere to any size room without adding permanent fixtures. As with window treatments, check your lease or ask your apartment manager if you can replace the standard-issue fixture in your dining room with something that might fit your taste – as long as you put the old one back up when you move out.
Furniture
Here's where you can really make a personal statement and create a living space you can really enjoy. In addition to choosing a style that reflects your personality – traditional, transitional, contemporary, or ultra-modern – incorporate time-tested design tips to optimize the space you have available.
Choosing furniture with lots of curves, including round-edged chairs and sofas as well as circular or oval tables, gives visual variety to a boxy apartment. Buying furniture that is intentionally undersized increases the feeling of space and prevents overcrowding.
If your space is particularly limited, invest in furniture that performs multiple functions, such as a captain bed with built-in drawers, sleeper sofas that transform into guest beds, and bookshelves with built-in work surfaces to double as desks.

Shelves
Free-standing shelves and bookcases give you another opportunity to combine style with function. They can also move with you from apartment to apartment. When possible, coordinate your shelf style with your furniture to make a strong, consistent aesthetic statement.
As a renter, you may not be able to rip out floors, install permanent fixtures, or enhance your bathroom with a polished marble shower stall. But that doesn't mean you don't have creative design options to make your apartment an expression of yourself. Being a successful designer with a rental will make it a breeze once you graduate to being a homeowner.
Are you looking to make your mark in Orange County, San Diego County, Los Angeles, or Northern California? Find the perfect apartment community that complements your lifestyle.