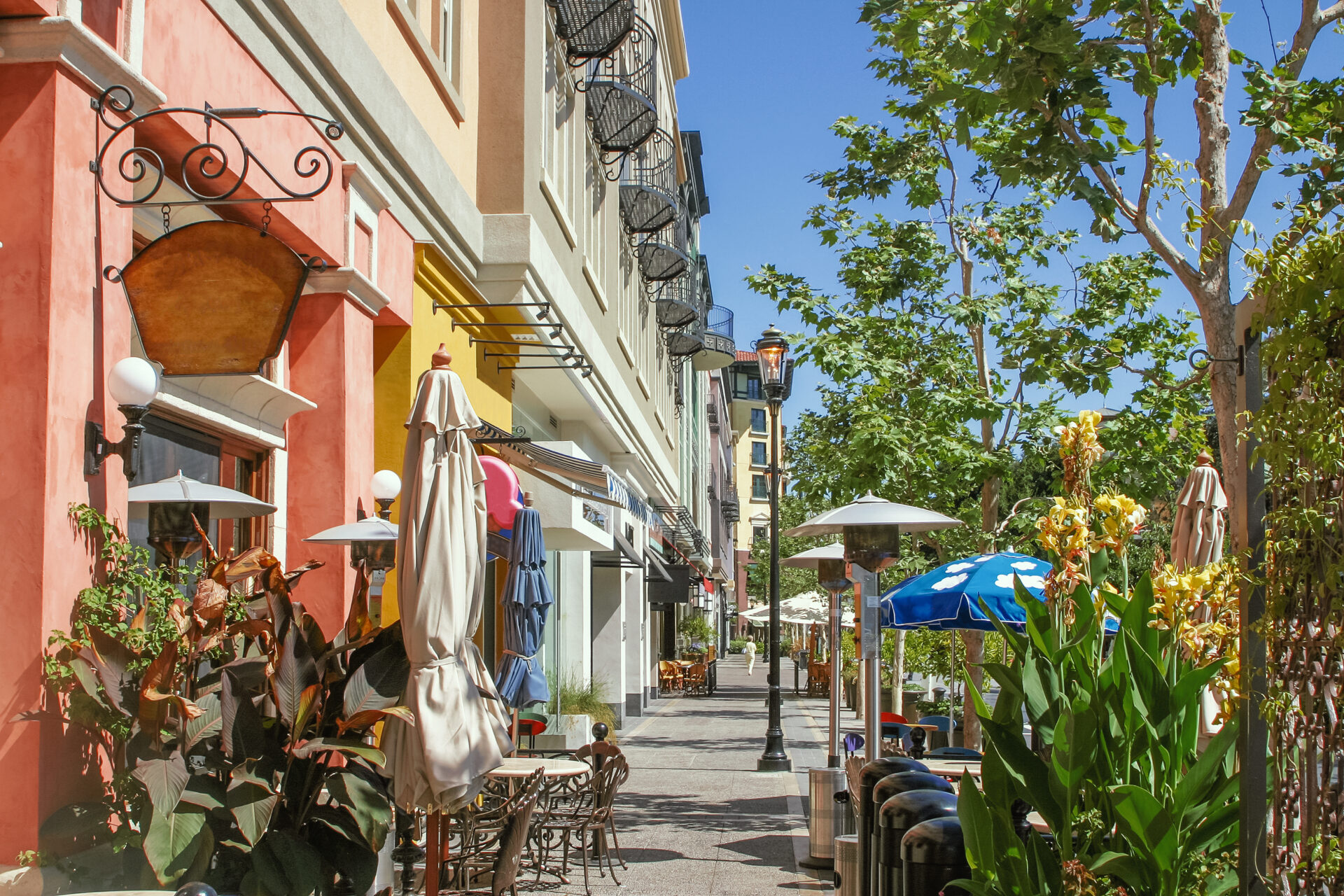 While online and mobile shopping, same-day shipping and airborne delivery drones grow in popularity, there's no substitution for a trip out to the local shopping centers for a tactile experience of browsing and buying. Retailers have shifted their focus entirely to improving the consumer experience while restaurants are constantly recreating their cuisine to keep dining fresh and exciting. Below are seven locations across Silicon Valley that are worth visiting.
Santana Row
377 Santana Row #1105, San Jose, CA 95128 (Map)
The renowned Santana Row shopping strip offers a mix of mid- to high-scale retail and dining packed into an architectural masterpiece. Santana Row is also a well-known location to catch a glimpse of some of your favorite celebrities. Notable tenants include Gucci, Urban Outfitters, Tesla, LB Steak and Pizza Antica.
Westfield Valley Fair Mall
2855 Stevens Creek Boulevard, Santa Clara, CA 95050 (Map)
Westfield Valley Fair, which is across the street from Santana Row, offers a wide range of  options for every budget, from your favorite mall standards to high-end retail. The dining terrace has undergone a recent, large-scale renovation and with fresh offerings, including well-known casual chains like Chipotle and atypical options like the Old Port Lobster.
Stanford Shopping Center
660 Stanford Shopping Center, Palo Alto, CA 94304 (Map)
Voted the most popular shopping mall in Silicon Valley, the Stanford Shopping Center is located in the ever-growing city of Palo Alto, home of Stanford University and companies like Facebook, Google and Apple. Stanford Shopping Center is an upscale outdoor shopping center with four major department stores (Bloomingdale's, Macy's, Neiman Marcus and Nordstrom) and high-end retailers including Louis Vuitton, Burberry and Ermenegildo Zegna.
Gilroy Premium Outlets
681 Leavesley Road, Gilroy, CA 95020 (Map)
In the city of garlic, shoppers can find the Gilroy Premium Outlets which can conveniently be seen from Hwy 101. The huge outdoor outlet center, comprised of four long buildings with 145 different retail options, boasts itself as a "bargain hunter's haven." Check out all the different retail options here.
Westfield Oakridge Mall
925 Blossom Hill Road, San Jose, CA 95123 (Map)
The Westfield Oakridge Mall can be seen easily by its bright neon signs and tall architecture. Shops and restaurants include Express, Michael Kors and Nordstrom Rack, as well as Century Theatres.
Great Mall of the Bay Area
447 Great Mall Drive, Milpitas, CA 95035 (Map)
As the largest indoor retail outlet in northern California, the Great Mall of the Bay Area is surprisingly only one level. The Great Mall was built over the site of a former Ford automobile assembly plant and is composed of a mix of casual retail brands and outlet stores, including Sears Outlet, Burlington Coat Factory and Sports Authority. The mall also has a Dave & Buster's and a Century Theatres.
Eastridge Center
2200 Eastridge Loop #2062, San Jose, CA 95122 (Map)
In the heart of eastside San Jose lays the three-story Eastridge Center. Eastridge offers mostly casual-end brands including Forever 21 and Zumiez, and also hosts three department stores: JCPenny, Macy's and Sears. AMC Theatres can also be found here.
Was your favorite shopping center not listed? Let us know with a comment below and make sure other readers check them out!
—
If you are looking for a new apartment in Silicon Valley, make sure to check out our Silicon Valley apartments page.