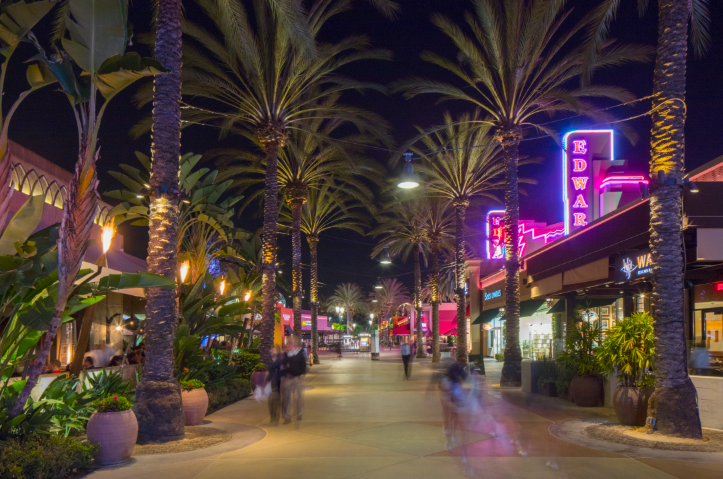 "Nobody Walks in L.A." claimed the pop group Missing Persons in their 1980s hit. But even in car-obsessed Los Angeles, there are plenty of great neighborhoods where residents can walk comfortably from their homes or apartments to nearby shopping, grocery stores, restaurants, parks and entertainment. The same can even be said for certain enclaves in the sprawling suburban communities of Orange County, Silicon Valley and San Diego County. In fact, in some of California's urban areas, one can actually live quite fully without the benefit of a private automobile. Just like Manhattanites!
Every year, the website Walk Score lists the country's most walkable cities. They analyze more than 300 billion walking routes to create scores for 1.5 billion locations. They base their scores on such factors as the number of restaurants, parks, schools, grocery stores and entertainment venues within a given radius, plus pedestrian friendliness, the availability of mass transportation, and bike routes.
Based on this information, here are the five most walkable neighborhoods and communities in and around San Francisco, Silicon Valley, Los Angeles, Orange County and San Diego, scored from 1 to 100.
San Francisco
There aren't many places in California quite like San Francisco in terms of walkability. Many residents of the City forego owning a car for a multitude of reasons including: the city has excellent public transportation options, the city is especially friendly to bike riders, and more. The areas below in SF rank especially well:
Chinatown (100)
Financial District (99)
Downtown (99)
Tenderloin (98)
Van Ness/Civic Center (98)
Silicon Valley
It shouldn't surprise you that the tech capital of California, where startups and tech empires cohabitate, is home to residents who if given the opportunity will gladly walk to work instead of hopping in their vehicle.
Mountain View (58)
Santa Clara (56)
Sunnyvale (55)
Campbell (54)
Palo Alto (54)
Los Angeles
The scores that the neighborhoods below garnered were definitely surprising when you consider that the word automobile and Los Angeles are rather synonymous! When most people think of LA, they think of cars zooming across town! If you're looking for a new place where you can walk to dinner check out the neighborhoods below:
Downtown (93)
Chinatown (91)
Koreatown (90)
Pico-Union (90)
West Hollywood (89)

Orange County
OC is a rather encompassing region that requires a car to get around, but that doesn't mean there aren't pockets in the area that are suitable for those who are inclined to walk from place to place.
Santa Ana (61)
Costa Mesa (60)
La Habra (56)
Westminster (56)
Garden Grove (55)
San Diego
San Diego isn't known to be one of the best places in California to live for nothing! One look at the walk scores below and one has to wonder if there's a definitive correlation between walkability and the happiness of residents.
Horton Plaza (98)
Core Columbia (96)
Gaslamp Quarter (96)
Little Italy (95)
Cortez Hill (94)
Looking for an apartment home? Start by visiting our Orange County, San Diego, Los Angeles, or Northern California apartments search results page.