Los Angeles residents seek refuge from big-city congestion as Covid-19 unveils a "new normal."
In light of the Covid-19 pandemic, many L.A. residents are considering leaving the high-density urban lifestyle of Los Angeles to seek out the more sprawling county of Orange, with its open spaces, parks, winding trails and 40 miles of coastline. Other cities are seeing a similar exodus. In New York City, for example, 5% of residents left the city in search of open spaces offered by Long Island, or neighboring suburbs.
And life after the pandemic, however, could forever change the "downtown revival" many cities have enjoyed in recent decades. Real estate agents say there has already been greater interest in the suburbs over the big cities. In places like L.A., considered one of the pandemic's epicenters in Southern California, people are seeking places like Irvine, Newport Beach, Aliso Viejo, Tustin, Rancho Santa Margarita, Mission Viejo, Orange, and Costa Mesa, which still have city amenities, but also boast less congestion in tandem with natural landscapes and open spaces.
Irvine's Open Spaces
Los Angeles cannot match Irvine's unique combination of big-city conveniences and the pristine beauty of its parks, trails, and wilderness. Irvine Company is dedicated to not only providing aesthetically remarkable places to call home but to preserve the landscape as well, with more than 60% of the 93,000-acre Irvine Ranch dedicated to permanent preservation. The land is now one of the largest urban open spaces in the United States, larger than any national park.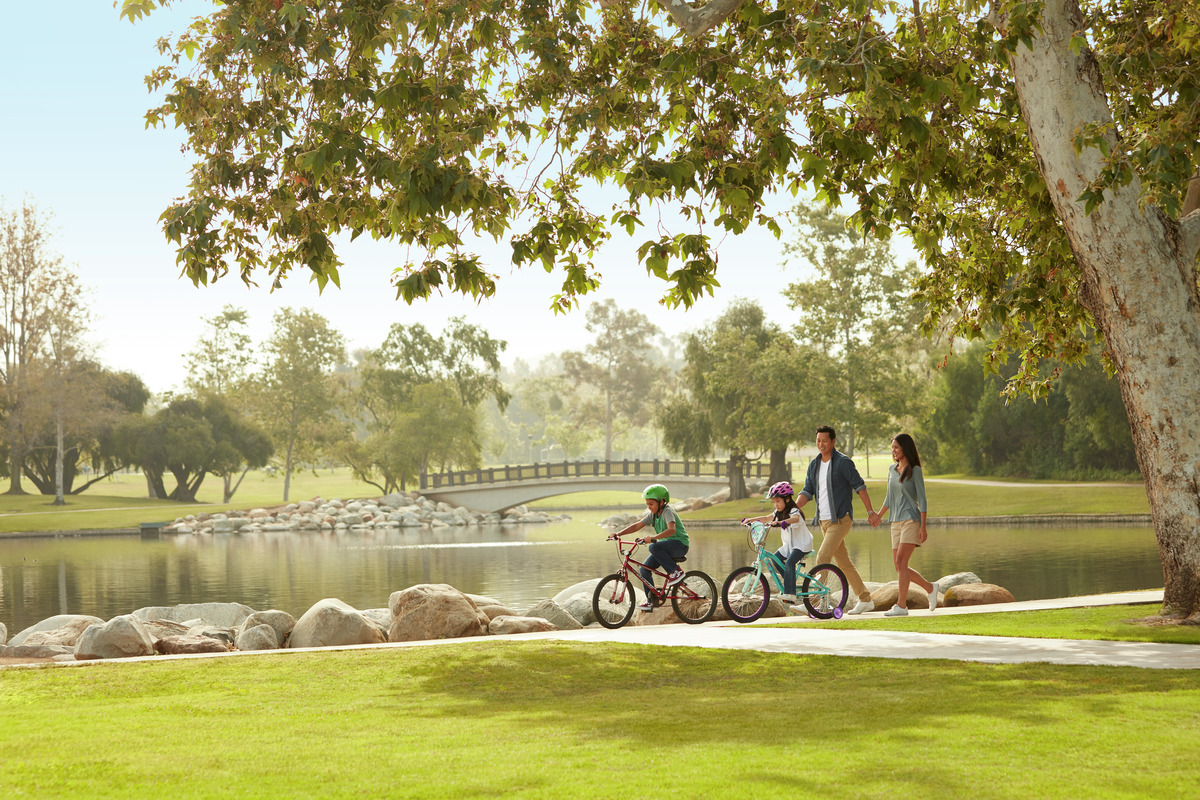 Sixty years ago, the Irvine Master Plan envisioned a livable city of parks and open space connected by trails and bike paths. Since then, Irvine Company has preserved tens of thousands of acres and opened over 40 hiking trails including the famous Back Bay Loop Trail, which winds around Upper Newport Bay, with scenic stops at places like Upper Castaways Park, the Back Bay Science Center at Shellmaker Island, and Big Canyon Inlet.
Check out the 2020 Irvine Parks Guide from The Irvine Standard.
Irvine Company Apartments 
With the market moving towards an increased offering of opportunities to work and live at home with room to roam, Irvine Company Apartment Communities has introduced seamless indoor-outdoor living spaces in all new apartment communities that promote activity, relaxation, entertainment, and overall well-being, with the underlying premise that residents want to work, keep fit and socialize close to home. In essence, the plan is to consolidate activities in one centralized location: where you live is right next door to where you relax by a resort-style pool, work out at a state-of-the-art gym, meander along local trails, or work from a modern iLounge or spacious apartment home.
The "Livability" of Orange County
Stretching from the mountains to the sea are woodlands, vast canyons, and hillsides filled with wildflowers and wildlife. It's here, residents can get the best of all worlds—from an urban city to a beach town, to mountainous terrain—Orange County literally has it all. And the Irvine Company continually works to build highly livable communities, while also respecting and preserving the surrounding landscape.