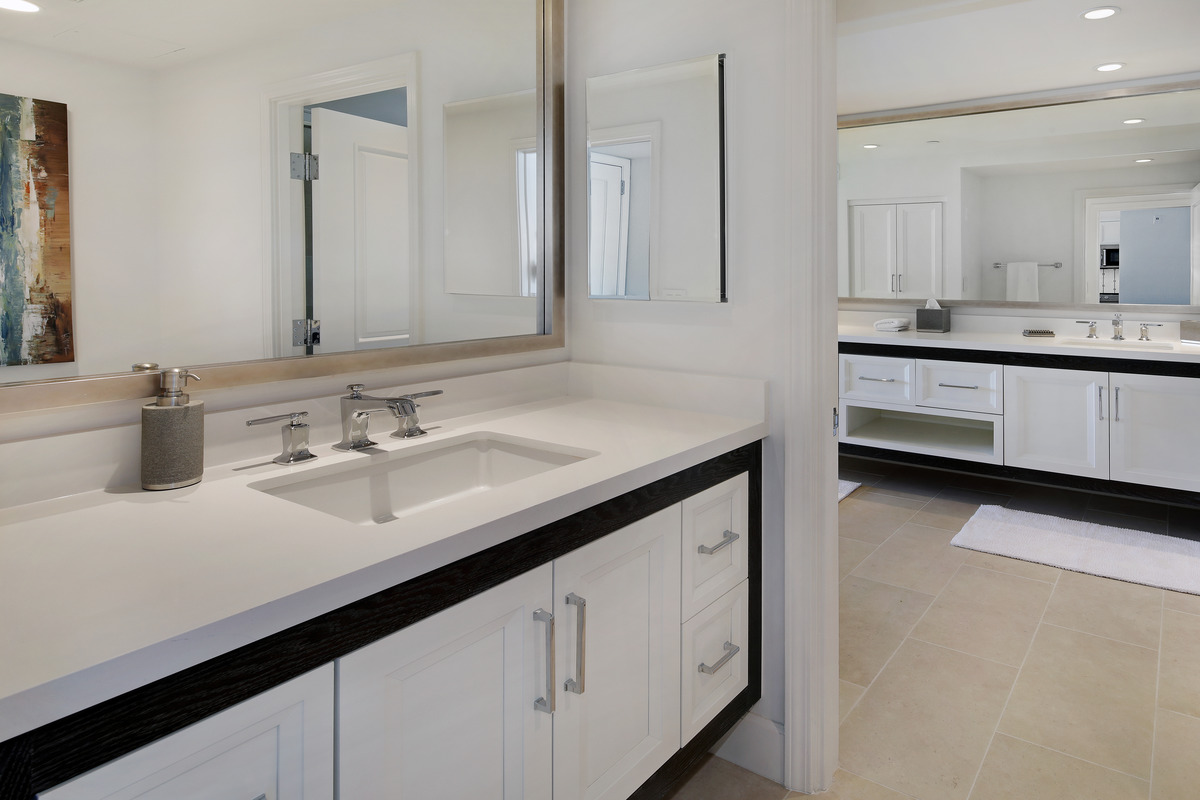 Just because you're renting an apartment doesn't mean you can't make your bathroom more functional. Turn your bathroom into a space you look forward to entering in the morning or relaxing in after a long day at work. And, add more storage space! Try a few of our easy apartment bathroom decor ideas.
Please note: Always check your lease to see which updates you can make to your apartment. If you're unsure, check with your apartment manager or landlord.
Add Plants
Plants add easy and instant color and texture to your bathroom! A bathroom's more humid conditions will be perfect for more tropical varieties like orchids, begonias, or snake plants.
A Pop of Color
Paint is another relatively easy way to change the look of your bathroom. Check with your landlord first to make sure it's okay to paint the walls. But if it is, invest in a gallon of a color that inspires. If you're trying to make a small bathroom look bigger, then select lighter colors. Also, be sure to use a satin finish paint, as it's easier to clean marks off walls in heavy-use rooms like bathrooms and kitchens. Or, add a simple pop of color with a bright shower curtain!

Remove Clutter with Storage Solutions
Nothing makes a space look cramped more than clutter. If you're low on cabinet space, remove the mess with hanging floating shelves. Bar carts also work perfectly in bathrooms with little to no cabinets or shelves. They can be moved out of the way or closer to the shower as needed.
Change Up the Floor
So your landlord likely isn't going to want you laying new tile (and you don't want to invest that kind of money in an apartment bathroom anyway). But you can totally transform your bathroom floor with a water-resistant vinyl floor cloth you can cut to fit the space. Or just add some rugs in interesting accent colors.
Add Mirrors
Of course, you need one over the vanity. But if you have a small apartment bathroom that you want to make look larger, mirrors are an excellent way to do it because they reflect light and add depth to a room. Hang a full-length one on a wall or door for both practical and aesthetic purposes, or cluster a series of smaller mirrors on a wall as a decorative accent.
Switch the Hardware
For a low cost, you can buy interesting drawer pulls and cabinet handles for swapping out ones that look tired and drab. (Keep the ones you replace, however, in case you want to take the new hardware to your next set of digs in the future!)
Add a Sink Kkirt
Don't like that wall-mounted sink with all the plumbing showing underneath? An easy decorative fix is a colorful sink skirt. It might give you some extra hidden storage, too.
Art & Accessories
Quickly and inexpensively add color and drama to your apartment bathroom with a fun shower curtain that matches your personal style or add some themed wall art. You can even use your own photography. Plenty of vendors now offer inexpensive photo wall tiles that allow you to use shots from that trip to Peru or that stroll through Venice as budget-friendly wall art.
All it takes to turn that apartment bathroom from dull and dreary to bright and spacious (at least in feel!) is a little creativity and a few ounces of elbow grease!