It's a newfound independence when you rent your first apartment. You can settle in and decorate your own space, creating an oasis truly meant for you and your lifestyle. It all starts with the apartment hunt, so you'll want to see what this process entails and how to prepare for it. 
Here's what you need to know as you're embarking on the journey to find your first place.
STEP ONE: SEARCH BASED ON A REALISTIC BUDGET
Your budget is the most important part of the apartment hunting process. It determines whether you can even look at certain communities and is great at helping you narrow down your search. Put simply, your budget is based on your income leftover after all mandatory expenses. If your earnings are unpredictable or fluctuate, keep your estimates fairly conservative, just to be safe. Here's how you budget:
Determine your net income per month (what you make in your paycheck, after taxes).

List your current bills per month and deduct them from your above income (credit cards, car payment, etc.).

Factor in unexpected costs, such as an ER visit or car troubles (by adding 10 to 15 percent to your expenses).

Consider utilities and groceries (on average,

utilities

cost around $200 per month, and

groceries

for one person cost around $250 per month).

Don't forget about entertainment money, such as happy hours with friends and movie dates.

What's left? That's

your available budget for renting an apartment

. Be realistic about what expenses you can cut, if you so choose.
While you're looking for your first place, try to find out if any utilities are included in the rent. Sometimes, a unit seems more expensive than it is because certain amenities are included in the overall price. As you're budgeting, also consider move-in and upfront costs, such as the security deposit and pet fee. Some apartment complexes may ask for the first and last month of rent upfront. Just be ready for these financial twists and turns along the way. 
If you can't afford a place, don't look at it. It'll be a constant game of comparison, so always stick to what you can afford.
STEP TWO: CHECK YOUR CREDIT SCORE
Before the landlord checks your credit score, you should. You can do so for free at annualcreditreport.com. This way, you have time to correct any inaccuracies and determine if you'll need a cosigner − someone who will be responsible for paying your rent if you can't afford it that month. Usually, you won't need a cosigner unless your credit score is fairly low.  
STEP THREE: DECIDE IF YOU WANT A ROOMMATE
If finances are an issue when looking for a place, you may want to think about getting a roommate to share the space and expenses. The roommate situation isn't for everyone, though, so be cautious about this decision. Money aside, living with someone can present its own set of challenges, especially if you don't know the person or their nuances very well. Make sure that you're both listed on the lease and that there won't be any surprises, such as a rent or security deposit increase due to adding an extra person.
Certain questions need to be answered before signing a roommate contract:
Do they smoke?

Do they have pets?

What are their daily and nightly routines?

Are they a night owl?

Are they strict about what they like to share or keep separate?

Are they punctual with something like paying rent?

How often do they like to cook?

Do they have any allergies that you need to know about?

What do they do on the weekends?

What are their pet peeves?

What do they want in a roommate?
In your agreement, outline expectations and responsibilities while keeping the purpose clear: to avoid disagreements and stay on the same page as roommates. If things don't work out, for whatever reason, there is a proper way to remove a roommate from your lease. 
STEP FOUR: MAKE YOUR LIST OF MUST-HAVES
Extra, luxurious amenities are great, but don't let them be a deciding factor for your first place. Before you begin your search, determine your true apartment must-haves. 
Location
This must-have can be found at the top of many people's lists. Why? Because it affects everything, including your overall quality of life. If a short commute (or, at least not having a long commute) is important to you, avoid looking at apartments outside of a target radius. You'd be surprised by how many people choose to make a concession and settle for an inconvenient location. Ask: 
What will your drive

to and from work

be like? 

Is your complex easy for you (and guests) to find? 

Is it near a grocery store, restaurants, an airport, etc.? 

How will your apartment's location make life better or worse for you?
Pet-Friendly
This one's easy. If you have a pet or plan on getting a pet, put this at the top of your list – perhaps even above location. After all, if the community isn't pet-friendly, you can't bring your furry friend along or even get one in the near future. Always prioritize your pet.
Parking
Apartment parking situations can be challenging if there aren't designated areas for guests or even residents. Ideally, the parking situation for your complex would be convenient – and safe – for you and your guests. Ask yourself: 
Is there assigned parking? 

Can you pay extra for a reserved spot? 

Is there a parking garage or surface lot? 

Are guests allowed to park in the tenant parking? 

Where do guests park? 

Is there an overnight guest parking policy? 

Is the parking situation safe? What is the crime rate? What is the physical layout of the parking lot?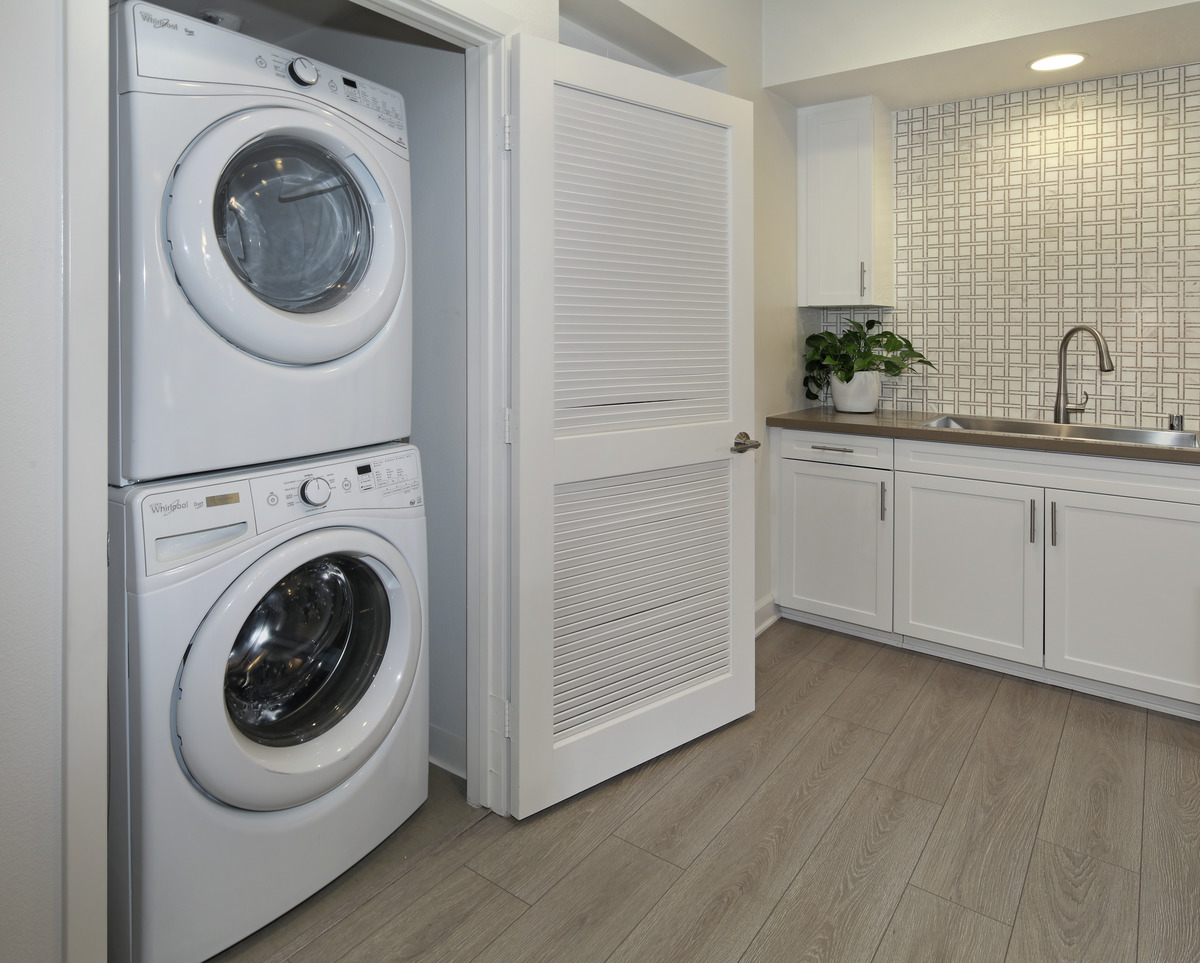 Laundry
If you want a washer and dryer at your fingertips, make sure your new unit has them. Sometimes, apartments come with laundry hookups but no machines, or a complex will have an on-site laundry room for all residents to use. If there isn't laundry in a unit or on-site, you'll want to decide if it's worth it to have to commute to a laundromat on laundry day. Before committing to a community without in-home laundry, ask how much on-site laundry costs. How busy is it?

Size
The size of your prospective apartment is all up to preference – and budget. Some people are perfectly comfortable in a studio apartment with no designated bedroom as a more affordable option, while others require two bedrooms for visiting family members. Are you set on a certain square footage? A certain floor plan? A certain number of bedrooms? Map out your size expectations and see where they lie on your list of priorities. 
STEP FIVE: CALL AHEAD AND SCHEDULE A TOUR
Once you've found a few places of interest, call ahead and schedule a tour. While on the phone, make sure the rent prices listed are still accurate, as well as the apartment availability, security deposit, and application fees. They'll likely tell you a few of their basic requirements for renting, so as to not waste either of your time if you don't fit the criteria. That's why it's important to call ahead. Take this opportunity to ask about lease length options and any special move-in offers or discounts. Many apartment communities now offer self-guided touring options.

STEP SIX: SEE YOUR ACTUAL APARTMENT (IF POSSIBLE)
Try your best to see the actual apartment you'll be living in. If renovations or other community construction make that impossible, you'll likely be shown a model. This is when questions are your best friend. Ask the leasing agent for a map of where your actual unit will be and have them show you from the outside. Then, ask questions like:
Will these be the exact furnishings and finishes? 

What will be different?

What is the state of the actual unit? Is it damaged? 

Is it updated fully, like this one?

Will there be the same appliances?

How far away is parking?

How far away is the trash room?

How far away is the mailroom?

How far away is the elevator?
These will help you determine whether your actual unit is worth signing on the dotted line for.
STEP SEVEN: GET TO KNOW THE PROPERTY MANAGEMENT
So, you've checked off most of your to-do list, but have you thought about the overall experience with the property management team members and their processes? Ask the staff about the typical work order processes and turnaround times. Feel free to seek the opinions of current residents you see nearby.  
STEP EIGHT: MAKE SURE IT FEELS LIKE HOME
If an apartment has just about everything you want, you still may be averse to it. It comes down to whether a community, in its entirety and personality, fits with you. Do you like the hustle and bustle of a busy complex, where you can meet people? Or do you prefer to keep to yourself? Ask what the community is like on the weekends, during certain seasons, and check the walls for noise control. Is this the environment you see yourself living in for the next year? This step is also the most beneficial if you can ask a current resident. Firsthand referrals will help you make a confident decision. 
These important steps will help set you up for success and take you straight to the front door of your dream apartment.