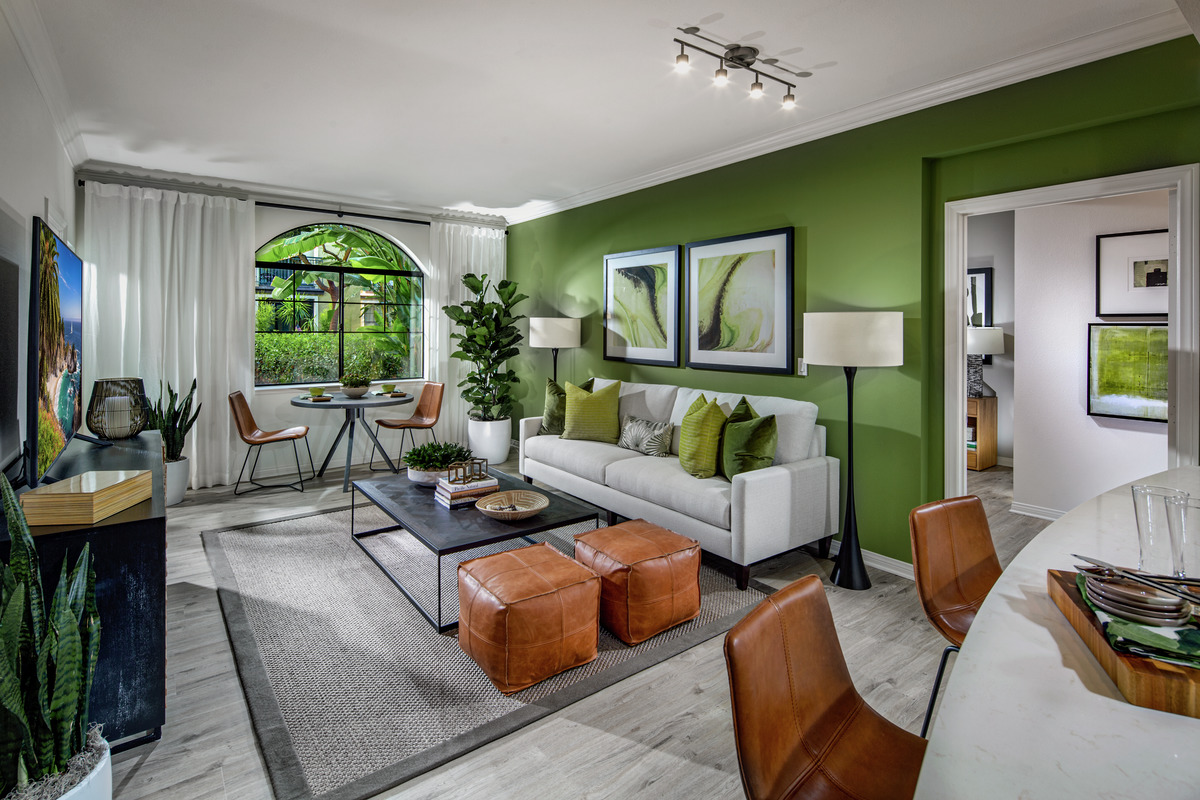 Wall art is one of the best ways to convey your personality throughout your home. Depending on the apartment community, your lease agreement may prohibit nail holes or even place a pricey fine on wall damage. Using nails is the most common way to position wall hangings, but it isn't the only option. 
Whether you're moving into a new apartment or adding a vintage mirror to your current place, use these damage-free tricks to learn how to hang art on your walls without nails.
Tape Lightweight Wall Art
Depending on what you're hanging, good, old-fashioned tape is a quick and easy solution. Use packing tape or double-stick tape to hang lightweight objects such as art prints, posters, wrapping paper, and fabric. For a more polished look, apply the tape to the back of the artwork or fasten it with washi tape to create a faux frame. Mix and match different colors and patterns of washi tape for a one-of-a-kind look. There are so many varieties of washi tape available that you can create original, large-scale works of art on your walls. You can easily move posters and prints hung with tape when it's time to redecorate your apartment.
Mr. Kate has some great tips using wall decals and much more!
Hang Heavy Frames with Adhesives
Sure, hanging lightweight prints and maps is easy to do without damaging the walls of your apartment. But, when you have a collection of antique mirrors and large, brass frames, you might need an alternative that is more heavy-duty than duct tape. Luckily for renters, there are several variations of durable adhesive hooks, strips, and hangers to accommodate nearly any frame or mirror. Velcro strips are a popular choice for those gallery wall enthusiasts and those who frequently update their home decor with new frames or photos. Some companies make wall adhesives featuring strong, metal hooks that can support up to 50 pounds, perfect for oil paintings encased in ornate frames and heavy mirrors. 
Lean Décor Against a Wall
The most effective way to avoid damaging your walls is not to hang anything at all. Instead of leveling and hammering, set your framed piece on a dresser, vanity, or shelf, allowing it to lean against the wall. This provides plenty of texture and eye-catching dimension to create a curated look in your home. If you want the illusion of additional square footage in your studio apartment, prop a floor-length mirror against a wall from the ground up. However, to ensure this statement piece does not get lost or overlooked, make sure it is taller than the rest of the furniture in the room. 
Use Other Props 
Think outside of the box when displaying your prints and pictures. From curtain rods to ladders, the decorating possibilities are endless. Showcase your collection of modern photographs using small hooks, clear fishing line and a little adhesive, allowing your art to dangle from the curtain rods. This little trick also works well if you have a wrought iron bed frame, as well.
Take your wall hangings back to the drawing board – literally. Easels are not only used to create paintings but also to display them as well. Arrange an easel any room and let your artwork be the piéce de résistance. Available in a variety of styles and colors, easels seamlessly blend with any décor and are easy to implement into your apartment.