The Bay Area is a place defined by scenic beauty and state-of-the-art energy, tucked beside some of the country's finest wineries. Influenced by Stanford University and upscale technology, the Bay Area is also an urban hub with great shopping, entertainment, coffee shops and outdoor dining.
You'll find open-air shopping at Santana Row in San Jose, close to diverse eateries, gastropubs, and a vibrant arts community. Known as "the capital of Silicon Valley," the large concentration of high-technology social media, engineering, computer, and microprocessor companies around San Jose has led to a thriving economy, with many companies boasting 1,000 employees or more. And with that… brings an aggressive housing market.
Should I Rent or Buy in the Bay Area?

People living in the Bay Area (or those planning to move there) are often faced with the question of whether to buy or rent. Deciding whether to buy a house versus renting an apartment in the Bay Area can be a difficult question.
At this time (August 2022), renting has some financial advantages when you factor in the peak Bay Area home prices and soaring interest rates, which have resulted in higher competition and multiple offers in the world of real estate. A 1,000-square-foot starter home easily runs in the range of $1.2 million.
It's a good idea to do a budget check. What's your DTI (debt to income) ratio? How much income do you net per year? And have you saved for a downpayment? To get into the numbers, check out Nerd Wallet's home affordability calculator.
Renting an apartment in the Bay Area can make a lot of sense depending on what kind of lifestyle you expect to have in five years, and your long-term financial goals. Moreover, whether you plan to stay put or make another move in the years following is another critical factor to consider.
Bay Area Housing Market: Higher Paying Jobs = Higher Cost of Living
According to the National Association of Realtors, it has never been more expensive to own a home in the U.S. than right now. Since the Bay Area is home to Silicon Valley – the world's hotspot for high-paying tech jobs, the real estate market in the area continues to skyrocket.
The Perks of Apartment Living vs. the Hidden Costs of Homeownership
From time to time, homeowners will be subject to surprise bills when it comes to plumbing issues, roof leaks, malfunctioning appliances, and much more. One perk that many renters enjoy is their property management company or landlord is typically responsible for a majority of the household maintenance expenses – as well as when something breaks!
Here are some items many people don't consider when weighing the pros and cons of homeownership:
Property taxes
Mortgage interest
HOA or condo maintenance fees
Gardening and landscaping costs
Plumbing/repair costs
Roofing issues
Air conditioning/heating
Water
Appliance maintenance and replacement
Pest control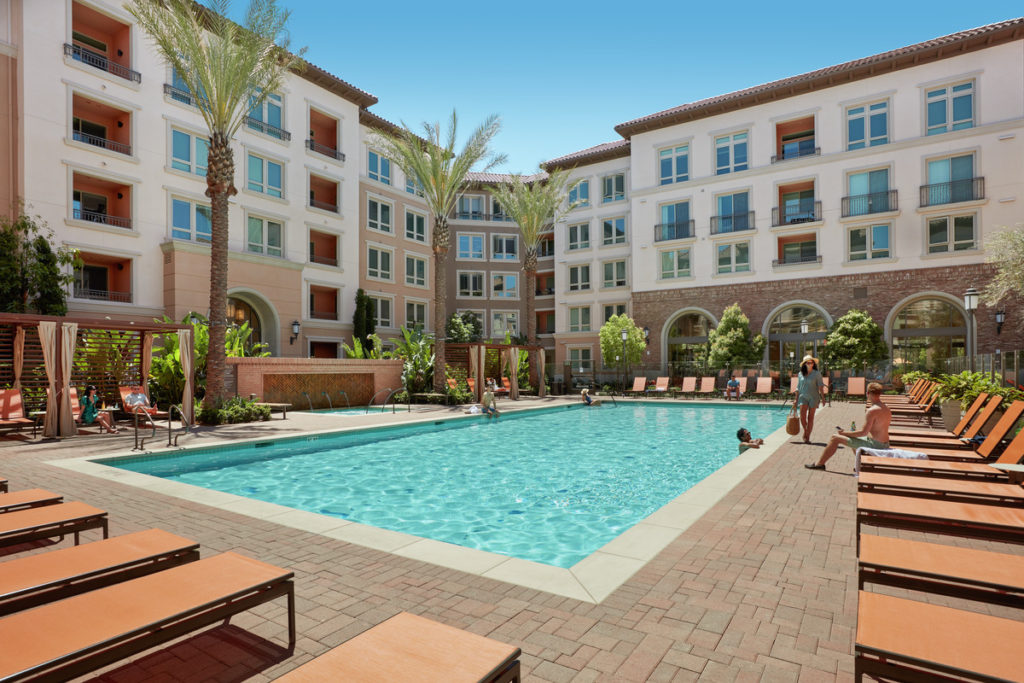 Renters Enjoy Amenities
Most apartment communities feature on-site pools, gyms, and much more! Irvine Company apartments in Santa Clara, such as Santa Clara Square, even have an on-site marketplace, integrated public parks and trails, state-of-the-art fitness, EV charging stations, outdoor fireplaces, and even on-site dining options.
Redwood Place opened its doors in June 2022 and is a community that combines a wealth of modern amenities with direct access to Sunnyvale's most expansive community park.
The brand new one- and two-bedroom apartments feature in-home washers and dryers, walk-in closets, stainless steel appliances, and private patios or balconies. Situated near everyday retail, top employers, and dining options, make Redwood Place your new home.
Try Before You Buy: "Audition" the Neighborhoods
Close to work and recreation, San Jose offers convenient transportation options. Whether for work or visiting attractions like the San Jose Museum of Art, Tech Museum of Innovation, and Guadalupe River Park, getting around is easy!
Find apartment homes situated in a highly sought-after location. Located between Mountain View and Santa Clara, Sunnyvale lies along the El Camino Real with access to it all.
Bordered by San Jose, Sunnyvale, and Cupertino, Santa Clara defines live, work, and play; located near exciting attractions like the home field for the San Francisco 49ers at Levi's Stadium, California's Great America amusement park, and more.
There's a variety of street shopping in downtown Redwood City, from eclectic boutiques to family-owned grocery stores, local hotspots, fine dining, and gastropubs.
Located at the end of the San Francisco Bay and voted one of the "happiest" suburbs, Cupertino boasts stellar public schools and ample natural beauty.
The question of whether to rent or buy is a decision many people face in their lifetime. Whether you buy now or rent for a year or two to see how the market adjusts is a personal decision that depends on your goals, budget, and where you see yourself in the next five years.