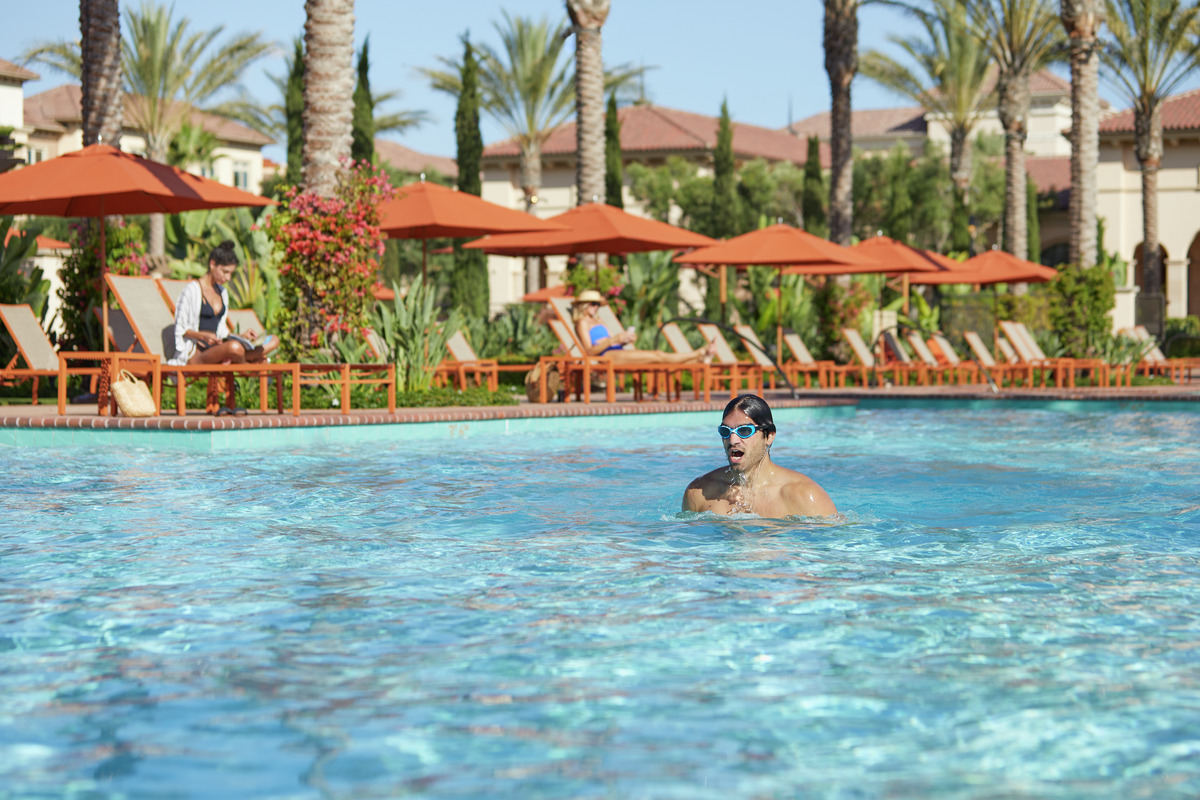 At Irvine Company Apartment Communities throughout Orange County, San Diego, Los Angeles, and Northern California, modern interiors are filled with natural light pouring in through the oversized windows. Here, residents enjoy on-site fitness centers, pools, movement and spin studios, and outdoor fireplaces, surrounded by trails and parks.
"We realize that more than just providing well-appointed, sophisticated common areas to complement the apartments, we seek to offer a holistic approach to a lifestyle choice, dialing up the fitness, work and leisure aspects of design as appropriate for each property's positioning," says Bruno Viterbo, Vice President of Design at Apartment Design Studio.
Residents enjoy access to outdoor areas where they can take their fitness outdoors, and plenty of open green space for recreation and relaxation. Irvine Company is dedicated to not only providing Californians with aesthetically remarkable places to call home, but to preserve the landscape as well, with more than 60% of the 93,000-acre Irvine Ranch dedicated to permanent preservation. The land is now one of the largest urban open spaces in the United States, larger than any national park.
Search Orange County Apartments
Some of our amenity-driven communities also include on-site wellness centers by Providence Express Care, Stanford Health Care, CorePower Yoga, as well as tennis and sports courts, dog parks, playgrounds, and on-site parks.
As for amenities that promote relaxation, connecting the indoors with the outdoors is another aspect that tops the team's priority list, with the goal that residents move between these spaces fluidly.
Silicon Valley Apartment Homes
"We want to be sure that we don't design spaces simply based on trends. We activate  spaces promoting a sense of community and togetherness. Amenity areas are truly successful when residents see them as an extension of their homes, and as part of a lifestyle layer in their community," Bruno says.
5 Ways Irvine Company's Apartments Promote Healthy Living
Generous floor plans – large floor plans with picture windows give you the space to spread out.
Private patios – Enjoy the fresh air on your private patio or balcony space.
Individual air conditioning systems – with air filtration systems
Spacious grounds – enjoy open grass areas as well as direct access to parks and trails.
An on-site team – dedicated to frequent deep cleanings that keep the entire community pristine, our responsive service teams support your complete wellness by providing an exceptional standard of care for simplicity, ease, and convenience.
Fitness, Reimagined
Our apartment communities are smoke/vape-free and are perfect for those looking for living spaces that promote overall well-being. Fitness centers aren't just rooms with equipment, but destinations where modern fitness trends are developed to their fullest potential. Many of our apartment communities feature fitness centers that include state-of-the-art equipment and TRX training, as well as spin and yoga studios. Visit us online today for a self-guided tour, or view a virtual tour.