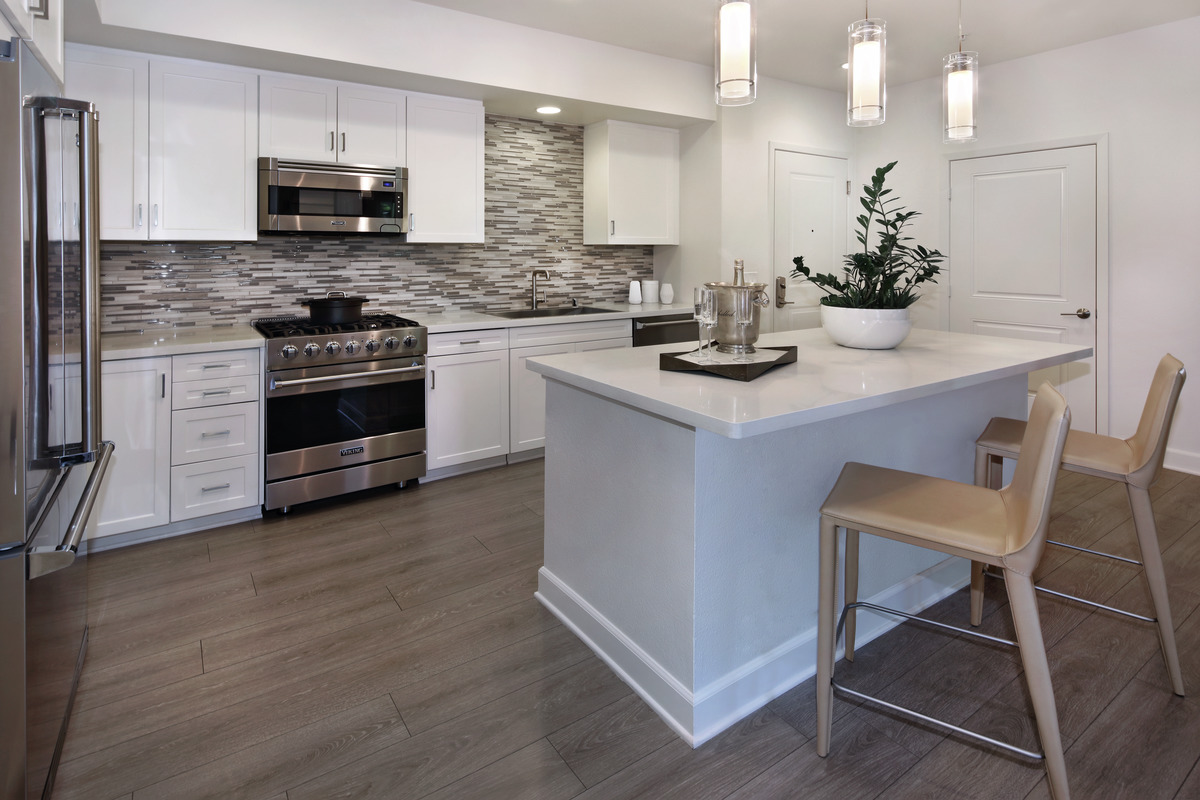 Is your kitchen looking a little blasé? Perhaps you're interested in changing your kitchen style, but don't think you have the budget for it? Not to worry. We have plenty of easy ideas for decorating kitchens and kitchen countertops on a budget. From swapping hardware to adding a backsplash, you can spruce up your cooking space without a huge financial commitment. And while you're redecorating, consider reorganizing your kitchen, too.
Add wall art
Your living room isn't the only place for wall art. The perfect framed piece can complement your kitchen theme or add a pop of color. 
Roll out a rug 
Add decoration and comfort to your kitchen with a rug that spruces up the floor and offers support for your legs and back while you're cooking.
Pick something to paint
An accent wall, an old shelf, a bump-out, a cabinet, or even a toe kick. These little highlights can quickly add personality and depth to a room. You can paint the appliances, too! Purchase liquid stainless steel paint, and transform that 1980s fridge from drab to fab.
Accent with wallpaper
Just like paint, wallpaper adds character. Choose a pattern and color combination to complement your current design, pick an accent spot, and apply.
Add lighting
Under-cabinet lighting adds a soothing ambiance to your workspace with minimal to no electrical work and only a few dollars. You can even hang a light fixture with plug-in pendant lights. Just install a little hardware for hanging and voila! 
Swap out furniture
Watch for low-priced opportunities to replace bar stools, a kitchen table, or other furniture in need of an update. You could also hit up Pinterest for some re-finishing or upholstery DIY ideas. 
Add color with new appliances
These days, mixers, coffeepots, toasters, and other appliances come in a variety of shades to accent your kitchen. Even a cute, light-blue teapot can add the right touch. You can also incorporate a new faucet. As long as specs match your current one, installation should be quick and painless.
Rethink window treatments
Hanging new curtains or valances are an inexpensive way to change-up decor. Plus, if current window treatments block natural light, consider an option to let in more sunshine.
Brighten your backsplash
With peel-and-stick options, a new backsplash can easily transform your kitchen. Choose a simple faux subway tile, narrow glass pieces, or go totally unique with custom-tile design.
Cure tired countertops and cabinets
Countertop and cabinet transformation kits offer an affordable, less-headache option. Kits include everything you need – paint, flecks, and rollers. In a DIY week, your kitchen can have a whole new look. 
Pick out some plants
Aloe Vera plants, Spider plants, English Ivy, and other hardy varieties add a unique element to your space. Maybe there's natural light that would support an inside herb garden, too.
Install shelving
Shelving provides surfaces for decorative items (including plants) but also additional storage for books, salt and pepper shakers, and neatly-arranged cooking utensils. If you have minimal wall space, stylish but functional hanging organizers store dish towels, paper towels, or cooking utensils.
Highlight hardware
Whether you're searching the internet or hardware store, there's a plethora of options to replace old drawer pulls or cabinet handles.
Incorporate canisters
The same goes for canisters and other countertop storage options. Add a decorative detail to your kitchen (and more storage) with unique containers.
Your kitchen is not just a work area. It's the heart of the home and an area you should enjoy! Be creative with budget-friendly kitchen and countertop decorating ideas, but confirm your landlord will allow such projects before you begin.