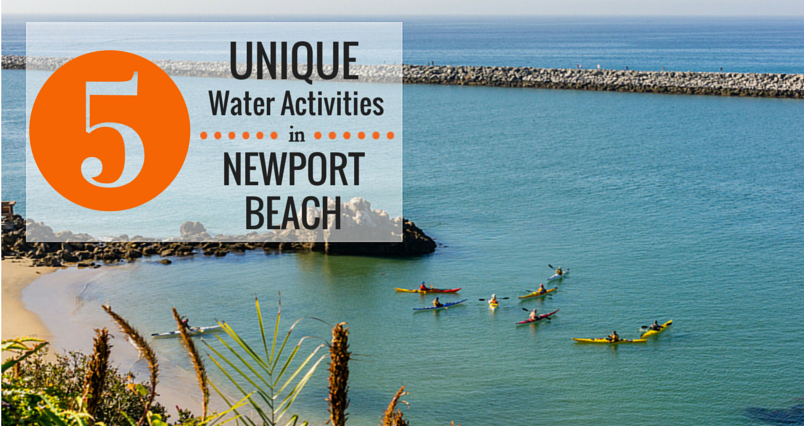 With the ocean at our finger tips, the possibilities are endless for summers in Orange County. Instead of hitting the beach again this weekend, take advantage of everything Newport Beach has to offer and try out a new way to get on the water. From traditional lessons to futuristic experiences, we've pulled together 5 unique water activities to add to your summer bucket list.
1| Go on a Paddle Boarding Adventure
Photo via Vik Approved
Stand up paddling (SUP) has been steadily gaining popularity in recent years in Southern California, but one company offers excursions unlike any other. Pirate Coast Paddle Company not only provides rentals and lessons, but also offers a wide variety of adventures to choose from. For those wanting to squeeze in a paddle after work, the SUP and Sip adventure on Thursday nights makes for an active Happy Hour, while the Glow Night Tour on Friday or Saturday allows fun for all ages. If you have a little more time and aren't afraid of a challenge, Pirate Coast also offers an Open Ocean Eco Tour for experienced paddlers and Yoga on the Water for all experience levels.
2| Learn How to Surf
Wouldn't it be nice to join your surfer friends in the water one morning this summer? Wavehuggers provides surfboards and wetsuits for 2-hour courses that will have you looking like a pro in no time. Their mission involves not only teaching proper surfing techniques and etiquette, but also informing people of the many threats to the ocean so we can preserve our beautiful beaches. They even offer group lessons so you can get your other friends who don't know how to surf yet in on the fun. And with locations from the beaches of Los Angeles to the San Diego coastline, you can learn practically anywhere.
3| Take Flight in a Jetpack
Photo Via Russ Allison Loar
If you've ever thought about what it would be like to walk on water, you have to book a flight with Jetpack America. With several packages to choose from (including tandem lessons for children and video packages for adventurers), this truly is a one-of-a-kind experience. You can expect flying in one of their water jetpacks to be similar to skydiving, jet skiing, parasailing, and scuba diving all in one—what more could a thrill-seeker want?
4| Round up Friends for a Nautical Scavenger Hunt
Duffy electric boats make up a large percentage of the vessels you'll see on Newport Harbor. Renting one through Duffy Newport Beach leaves you with an abundance of options. Sit back and enjoy a tranquil evening on the bay, cruise to one of the many waterfront restaurants Newport has to offer, or grab a large group of friends to bring out your competitive side with the Duffy provided scavenger hunt. You'll test your knowledge of Orange County trivia while discovering new landmarks all around the harbor.
5| Get Serenaded Aboard a Gondola
Keep your dream of traveling to Venice at bay for a night. An incredibly unique experience in Newport Beach is a romantic ride aboard traditional Venetian gondolas (with singing gondoliers!) offered by Gondola Adventures, Inc. Grab a date and prepare for a cozy evening complete with the dinner package of your choice.
If you're looking to move, begin your search on our Newport Beach Apartments page to select from some of the best apartments in Newport Beach.