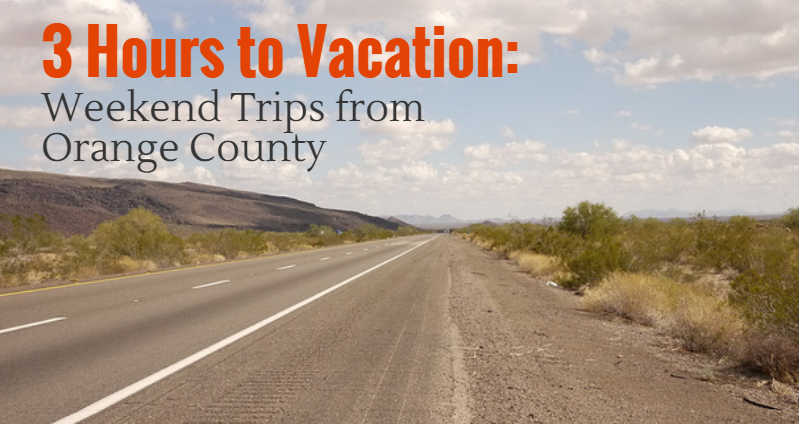 Photo via bensonk42
Looking to get out of town for a couple of days, but want to skip all of the hustle and bustle of airports? One thing we love about Orange County is the nearby getaway spots. From island escapes to mountain adventures, we're sharing 5 vacation spots that are less than a 3 hour drive from Orange County.
Photo Via Daniel Pouliot
Ojai
Just northwest of Los Angeles, nestled in a valley, is Ojai, California. Visitors escape to Ojai to relax with the Spanish-inspired architecture, local farmers market, and recreational activities.
Where to Stay: Ojai Valley Inn & Spa. Originally a golf course and private country club, Ojai Valley Inn & Spa has developed into a relaxing destination for people across the country. The resort's spa, golf course and other luxury amenities keep guests coming back year after year.
What to Do: Olive oil tasting should be at the top of your "to-do" list when you visit Ojai. You can also see the local wildlife and habitat while strolling through Ojai Meadows Preserve. If you're not sold on either of those activities, you can always default to the spa, golf or wine tasting.
Where to Eat: HIP. This casual, trendy and affordable restaurant with colorful cuisine is a favorite of both vegans and non-vegans alike. You can soak in the sun while eating wraps, sandwiches and salads in the eclectic courtyard.
Photo Via wmchu
Catalina (Avalon)
You can't get there by car, but Avalon in Catalina is still less than 3 hours from Orange County, and it's totally worth the trip. Check the ferry schedule for departure times and ports.
Where to Stay: Snug Harbor Inn. This coastal-themed boutique hotel with just six rooms is perfect for a cozy weekend escape. Each room has a working fireplace while each reservation includes in-room continental breakfast.
What to Do: Catalina is a haven for outdoor enthusiast, but Avalon has a little something for everyone. From a zip line eco tour to a pottery class to a food walk, there are dozens of activities to take up your time on the island.
Where to Eat: Catalina Coffee and Cookie Co. Grab your morning cup of coffee at this spot then head down to the sand. It's one of the least expensive spots on the island, but no less delicious.
Photo Via Angel La Canfora
Big Bear
Popular in both summer and winter for different reasons, Big Bear is a great mountain escape all year long. It's an outdoor adventurer's paradise with a small town for those who don't like to feel completely secluded.
Where to Stay: Big Bear Frontier Cabins & Hotel. Whether you're fishing, boating or skiing, Big Bear Frontier Cabins & Hotel is the perfect place to spend your evenings. You can choose to stay in an individual cabin or one of the attached hotel rooms.
What to Do: In addition to snow and water activities, you can visit the local zoo, hike the nearby trails, go bowling, and more. Most things to do in Big Bear are outdoors in nature, but those who prefer the indoors can also find a few things to do.
Where to Eat: Peppercorn Grille. For steak, fried food, pasta, and a variety of other dishes, you'll want to head to Peppercorn Grille. If you go on a nice night, sit out on the heated patio to people watch while you enjoy dinner and wine.
Photo Via Mark Pouley
Palm Springs
This location snagged a spot on our San Diego list too, but it's a classic Southern California weekend trip. It's the best retreat if you're looking for a luxurious desert escape with a chance of summer storms.
Where to Stay: Colony Palms Hotel. All of the little details at this Palm Springs hotel will charm you. It's an eclectic desert haven just a couple hours from home.
What to do: If you go at a hot time of year, you'll spend most of your days in the pool. Take advantage of the cooler hours to play some tennis or golf. Palm Springs is also a great place to vintage shop.
Where to Eat: Tyler's Burgers. Heat and heavy food don't usually go together, but a burger from Tyler's is a Palm Springs necessity. We promise you won't regret it.
Photo Via Brian Auer
Santa Monica
Orange County has its own beach communities, but why not explore a different one for a weekend? The entire Santa Monica culture is very different from that of any OC beach community, so dive in and have fun!
Where to Stay: The Georgian Hotel. The beautiful and bright (it's turquoise) Georgian Hotel is just across PCH from the ocean. The elegant, old Hollywood-style hotel has been around for more than 80 years. The exciting atmosphere makes a stay at the Georgian a unique experience.
What to Do: When you're visiting a beach city, spending an afternoon down by the water is a must. You can also go on a bike tour, check out the pier, or go shopping. Have fun doing touristy activities because after all, you are a tourist.
Where to Eat: Sugar Fish. A favorite of celebrities, bloggers and foodies, Sugar Fish serves fresh and quality sushi. The menu is entirely sushi, so if you don't like raw fish, you better sit this one out and try one of the other great restaurants nearby.