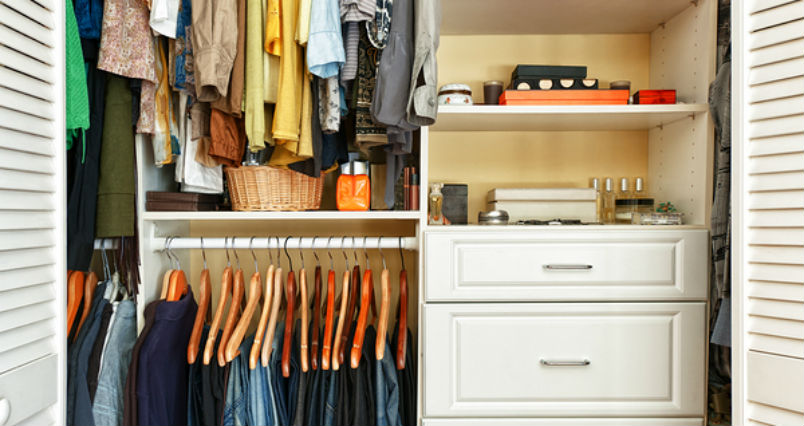 "My apartment has too much storage space," says no one ever.
It doesn't matter whether you live in a studio, 1-, 2- or 3-bedroom apartment, there never seems to be enough storage space. For renters, creating extra room in an apartment may be challenging due to limited square footage and the ability to make physical alterations to their abodes.
There are plenty of ways, though, to maximize your storage options if you live in a space that doesn't quite hold all of your belongings now. With a little creativity and these tips, you can find a place for all your knickknacks, appliances and throw blankets.
Bedroom Storage Ideas
Take advantage of the space under your bed: Yes, there's space under there! Use shallow, plastic storage bins to stash any of your season clothes, holiday décor, gift wrap or any other items that are not for everyday use.
Consider a bed with built-in shelving: From the headboard to the base, beds with built-in shelves allow you to decorate with your favorite possessions while keeping them neatly tucked aside. Style hardcover books underneath your alarm clock, or use trendy wicker baskets to stow away your socks, accessories and other small items.
Display your wardrobe: If it seems like you're running out of closet space, look up, literally. Add a chic, curated vibe to your bedroom by installing a floating clothes rack from your ceiling.
Living Room Storage Ideas
Outfit your living room with functional furniture: Combine fashion and function. Invest in furniture pieces that offer creative storage options. Consider using an antique train trunk as a coffee table to organize gaming consoles and pillows. If you need extra space, storage ottomans are a great way to hide clutter while providing additional seating for guests.
Make use of vertical space: Be resilient and use every square inch of your apartment, including your walls. Install bookshelves on a blank wall or a utility rack behind your bathroom door to make the most of your space.
Bring in the baskets: With hygge style and bohemian décor dominating the pages of Pinterest, rattan and fabric baskets filled with throw blankets, board games and magazines provide the cozy, space-saving touch your apartment needs while also keeping items stored in a pretty way.
Kitchen Storage Ideas
Hang your pots and pans: Maximize your precious kitchen space by suspending pots and pans from a hanging pot rack. This will add extra storage space in your cabinets while making you look like a serious chef.
Use the space above your cabinets: The tops of cabinets usually go unnoticed when they don't go to the ceiling. Add a little flair to your kitchen by using this space for style and storage. If you have a showstopping china collection or a handmade cake stand, this is a great way to display your beloved dishes without buying a bulky china cabinet.
Wheel in a kitchen cart: Kitchen carts offer surface area and … storage space on wheels. If you enjoy entertaining, use your cart to chop veggies in the kitchen before rolling it into the living room to serve cocktails and appetizers. And, when it's not in use, roll it into a corner and store some of your kitchen items in it.
Bathroom Storage Ideas
Install narrow shelves, racks or ledges: Strategically placed wall-mounted shelves, racks and ledges can increase storage area in even the most petite bathrooms rooms. The empty space above the toilet is the perfect place to add a set of rustic shelves and glass canisters stocked with toiletries such as cotton balls, cotton swabs and floss picks.
Store towels on a blanket ladder: Lean a blanket ladder against a bathroom wall for a trendy yet functional storage option for your towels and washcloths.
Add a shower caddy: If you have bath bombs and body scrubs galore, free up some under-counter space by installing a caddy in your shower or by your bathtub. Caddies that hang from the showerhead are great for holding items such as shampoo and conditioner. Suction cupped caddies are perfect for smaller things including razors and loofas.
If you're looking for more square footage, we offer spacious, luxury apartments with distinctive character in San Diego, Orange County, Los Angeles and Northern California. It's time to start searching for your next apartment home.