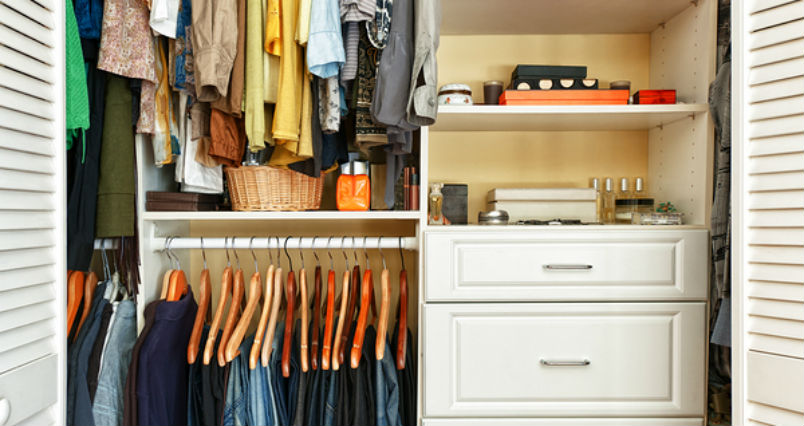 Four things said by nobody ever include: "Hollywood makes way too many good movies," "Taxes are way too low," "I'm so happy to be stuck in traffic," and "My apartment has way too much storage space."
We all know that nature abhors a vacuum and, whether you live in a trailer or the Taj Mahal, the "stuff" you own naturally expands to fill the space provided. Even so, finding adequate storage is a particular challenge to apartment renters who rarely have the option of expanding or making other physical alterations to their abodes.
Fortunately, space planners have devised a multitude of tricks to get more use out of small spaces. If you're looking to maximize your storage options, here are 12 tips to consider:
In the bedroom
1. Store clothes under your bed. Most home stores sell plastic storage boxes of various heights you can use to take advantage of space between the floor and your box spring. (Assuming you don't sleep on a futon.)
2. Consider a platform bed with built-in drawers.  Some manufacturers even make bed platforms already equipped with pull-out drawers. These are sometimes referred to as a "Captain's Bed" or "Mate's Bed."This negates the need to buy additional storage boxes.
3. Don't forget the headboard. Look for a headboard with built-in shelves or hidden storage cubbies.
4. Consider a ceiling-hanging clothes rack. Have a lot of vertical space but cramped closets? Hang a clothes rack near an empty wall.  You'll both increase your wardrobe capacity and never be able to claim, "I have nothing to wear."
5. Turn a closet into an office. If you need working space more than storage, equip a spare closet with shelves, install a small worktable, run an extension cord over from the nearest outlet and you have yourself an instant World Headquarters.
In the living room
6. Get a chest that doubles as a coffee table. That flat surface in front of your sofa contains plenty airspace between the floor and tabletop to fill with household items. Find a nice low-profile chest, preferably one with pull-out drawers, and use in place of a conventional coffee table.
7. Use storage ottomans as bar stools.  Line three or four tall storage ottomans in front of your breakfast bar and ̶̶̶ ̶  voila!  ̶  you have more places to store your stuff, plus a place for you and others to sit.
8. Go deep. With some ingenuity and drawer runners, you can equip a deep bookshelf with pull-out drawers that allow you to display books in front and get access to more storage area in back.
In the kitchen
9. Hang Your Pots and Pans. Maximize your precious kitchen space by suspending pots and pans from decorative ceiling hangers. This will not only free up under-cabinet storage, but make you look like a serious cook as well!
In the bathroom
10. Install narrow shelves, racks or ledges. Strategically placed wall-mounted shelves, racks or ledges can increase storage area in even the most petite of toilettes.
11. Install recessed shelving in bathroom "nooks." Some bathrooms have wasted nooks and crannies that can be made useful by installing recessed-and-ready shelving. These make for great places to store towels, toilet paper and your multitude of hair products.
In any room
12. When in doubt, look up. Take full advantage of all the vertical volume your living space offers. Fill what areas you can with stock cabinets or other pre-made storage units.
Need a bigger apartment or rental? Try our apartment search feature to find the perfect sized apartment for your needs throughout Northern and Southern California. 
Got some tips of your own to share on how to organize a small apartment? Let us know in the comments below!