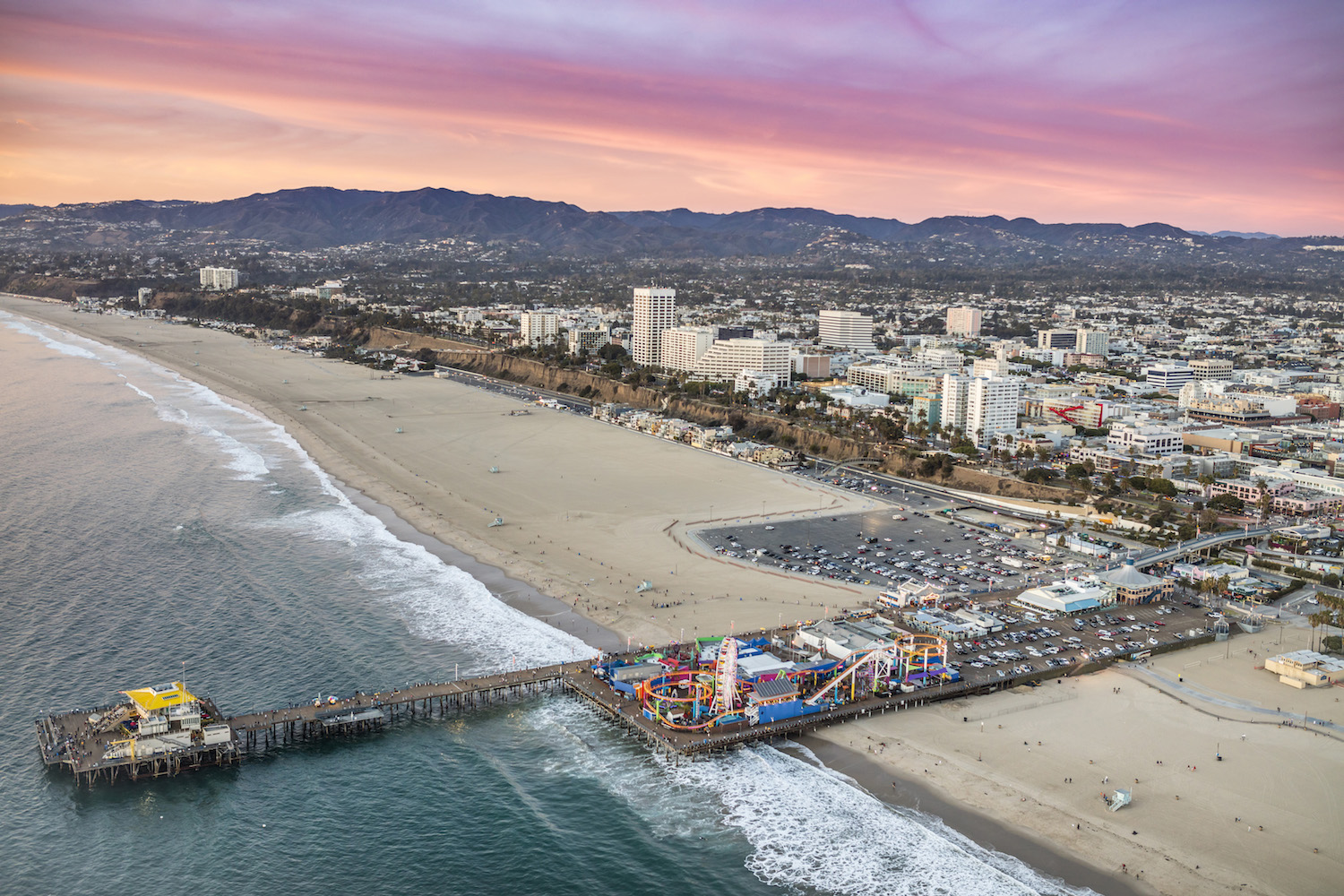 Nothing is quite comparable to waking up in the morning, gazing out over the balcony and taking in the view of the mighty Pacific Ocean and the historic Santa Monica Pier.
The Pier opened in September of 1909 to great fanfare. Thousands of visitors poured in to experience the unique oceanfront views. Entrepreneurs responsible for Coney Island's first carousel in New York realized Santa Monica Pier's potential as an amusement attraction.
The Pier experienced its heyday in the 1920s with merry-go-rounds, the Blue Streak Racer (a wooden roller coaster), the Whip (a thrill ride), and Aerospace (a funhouse). The La Monica Ballroom opened up in 1924 and became host to national radio and television broadcasts.
As nature took its course and the public's taste in entertainment changed, the Pier fell into disrepair. In the 1970s, when faced with the threat of demolition, the residents of Santa Monica united to restore the Pier and designate the Hippodrome building and carousel as U.S. National Historic Landmarks.
The late 1980s and 90s saw the adoption of the Santa Monica Pier Development Program. This focused on reinforcing the structure of the Pier as well as adding dining, shopping, and entertainment attractions.
Pacific Park was established and the iconic, nine-story Pacific Wheel Ferris Wheel, now adorned with LED energy-efficient lights and the first solar-powered Ferris wheel.
Santa Monica Pier remains a big attraction for tourists and residents alike. Residents of the luxury Santa Monica apartment homes at 1221 Ocean Avenue reap the benefits of nearby shopping and entertainment; concerts, an aquarium, outdoor movies, Muscle Beach, or simply just walking the trails along the beach and taking in another legendary Pacific Ocean sunset.
The luxury residences at 1221 Ocean Avenue have enjoyed recent renovations, that bring a renewed, timeless elegance to each apartment, with spacious interiors and upscale finishes, new kitchens and bathrooms. All units feature 180-degree ocean views, as well as dramatic city views, enjoyed from private terraces.
Experience the community that began as a "sleepy beach town" and has developed into one of the premier destinations to work and live on the West Coast. Or follow 1221 Ocean Avenue on Facebook and Instagram.