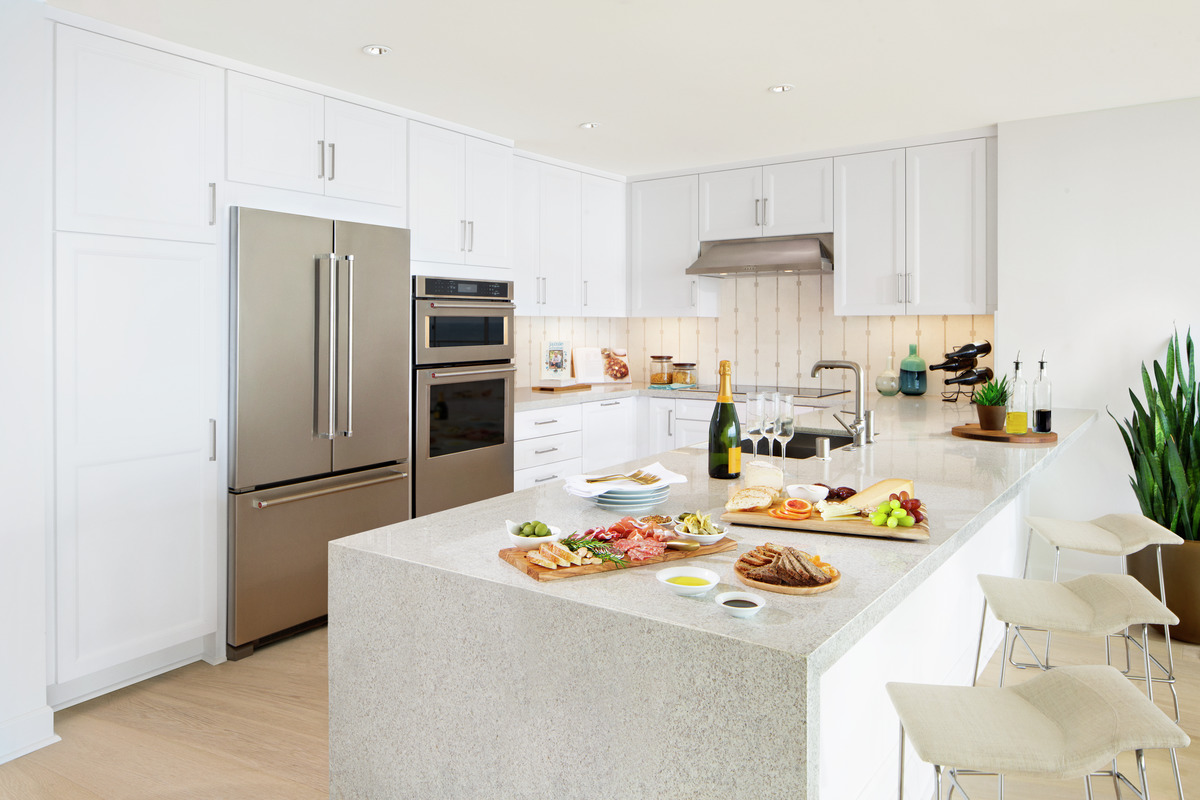 For nearly 50 years, it's been a beacon of luxury living on one of the world's most famous stretches of coastline, offering its residents a very private haven from which to enjoy some of the best ocean views on the West Coast. 1221 Ocean Avenue is complemented by services and amenities that bring apartment living to the next level.
Principally designed by acclaimed architect Cesar Pelli, and built by Lawrence Welk in 1969, the ocean view apartments at 1221 Ocean Avenue have always set the bar for luxury living in Los Angeles. Pairing a prestigious address with panoramic ocean views, luxurious amenities, nearby shopping and dining and exceptional service — it continues to attract residents from around the globe. And, with just 120 residences, 1221 Ocean Avenue remains exceptionally exclusive, appealing to those seeking the utmost in amenities, personalized service, privacy, discretion, safety and security. And the services? They range from white glove touch points such as booking reservations to dry cleaning to delivery services and more.
The property's sales manager James Cardosa explains, "Our goal is to engage with our residents and guests to ensure we have information that will assist us in anticipating their needs and offering assistance and service before any request is even made." Case in point: "We had a recent resident experience some health issues that required surgery and through past conversations we were able to put together a gift basket that was personalized and catered to the residents' favorite things."
The amenity spaces also reflect a heightened level of luxury, including a state-of-the-art fitness center; business lounge; elegant lobby with 24-hour front desk and concierge services; 24-hour valet; underground parking; rooftop pool and spa; chic Ocean Club rooftop clubhouse with outdoor dining room/terrace for parties and gatherings; and elevators with privacy access features.
"There is no request that is too little or too big," Cardosa adds. "Whether our team is assisting with delivering packages, dry cleaning, restaurant reservations or scheduling a resident's next session with their personal trainer, we are here to assist."
Perhaps the most valued amenities at 1221 Ocean Avenue are its unparalleled staff and location. The staff — among the most highly-trained and attentive in the industry — are available 24 hours a day. 1221 Ocean Avenue also boasts an impressive walk score of 92, offering its residents the best of Los Angeles and coastal living at their doorsteps, including world-renowned shopping, dining, entertainment and the beach.
"The location and convenience of living in the heart of Santa Monica steps away from the beach along with the many amazing restaurants and shopping options has always been something our residents say they love," says Guest Services Manager Chris Ignacio. "But I believe it is the exclusivity and attention to detail our staff pays to the service combined with the vacation type atmosphere that sets 1221 Ocean Avenue apart from the competition."